Free data visualization with Microsoft Power BI: Your step-by-step guide
We'll show you how to analyze a file with more than two million records of U.S. airline flight delays in this hands-on tutorial with video.
Power BI Desktop is the better place to begin, unless you're sure that your data is already in the format you need for visualization. (Which may be the case if, like me, you prefer to do your data wrangling with a scripting language like R or Python.)
If you're used to Excel, you might think that selecting File > Open is the way to start analyzing your data in Power BI. But you'd be wrong -- File > Open is only for an already existing Power BI project.
Instead, to import new data, click the Get Data button on the Home tab, choose your data source type and click Connect.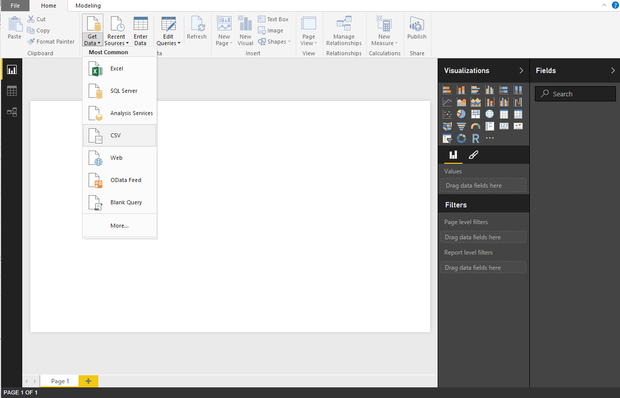 To load a file, go to Get Data and select your data type.
This will bring up a familiar Windows file-selection dialog. Choose your file and you'll see a preview of your data. If it looks okay and there's nothing more you want to do to the data before starting to graph and chart, hit Load. Otherwise, click Edit, which brings up the Power BI Query Editor.
In this article, I'm going to use monthly files of airline flight-delay information from last summer that I downloaded from the Federal Aviation Administration (FAA) website. I know -- especially where airlines are concerned, past performance is no guarantee of future results. But if you're going to book a flight this summer, it might be fun (if not necessarily predictive) to answer questions such as: Which airlines had the best and worst delays last summer? Are there any specific flights that do especially poorly or well? These Power BI charts can help you easily answer these questions.
If you want to follow along, you can download your own data files from the Department of Transportation website. Or if you want, you can download the same files I'm using here -- the file download is available to all members of the Computerworld Insider program; registration is free, so if you're not already an Insider, it's easy enough to sign up. Files include data for domestic flights in the U.S. by month (so if you want to check flights to Paris, this won't help). There are separate files for June, July, August and September.
Start by loading in the June file (2015_06_ONTIME.csv): Go to Get Data > CSV in Power BI. Select and open your file, and you'll see a preview of your data. Then click Edit (not Load) to bring up the Query Editor. Now we can do some data wrangling.
One thing that can be useful to check at this point is whether number columns are loading in as numeric (aligned to the right) or text (aligned to the left). In other words, if you see numbers that are flush left in your data preview, they're not importing correctly -- which is one reason to choose Edit and bring up the Query Editor window even if you don't think you need to make changes in your data's structure.
Previous Page 1 2 3 4 5 6 7 8 9 10 11 12 13 14 15 16 17 18 19 Next Page