Free data visualization with Microsoft Power BI: Your step-by-step guide
We'll show you how to analyze a file with more than two million records of U.S. airline flight delays in this hands-on tutorial with video.
You can embed web content, images, text boxes and videos into a dashboard from the dashboard itself; you can also create additional visualizations in a report and pin them to a dashboard, including adding "cards" that call out one or a couple of key metrics. You can edit your report in Power BI service by clicking the Edit Report link above the page and then pinning a new visualization to any dashboard.
You can allow your users to ask natural-language questions by clicking the setting gear icon on the top (black) nav bar, clicking Dashboards and then the specific dashboard you want to edit. Click the checkbox next to "Show the Q&A search box on this dashboard."
This feature lets you (or your dashboard viewers) generate new visualizations from a data set by typing in questions. Once I figured out appropriate formats for my queries, I found this a pretty compelling interface. For example, I imported data for monthly search visits to IDG's U.S. websites and then was able to view various slices of the data by typing in things like "Show me search visits by month for Computerworld" or "What month has the largest search visits for CIO". And while I could have created the same interactivity with slicers on a report page that I pinned to a dashboard, the value-add here is that users can ask questions that I didn't necessarily think to model for them.
For the flight data, I queried my dashboard with questions such as "What origin city has the largest average security delay?" (Adak Island Alaska. Who knew?) and "What destination city has the largest average weather delay from Boston?"
As you type in something that Power BI recognizes as possibly coming from your data set, the word is underlined and you see choices for what to select. Do you want Boston in Origin City or Destination City? Click and pick. If visualization type -- such as column or bar -- isn't the one you want, you can specify one in your query.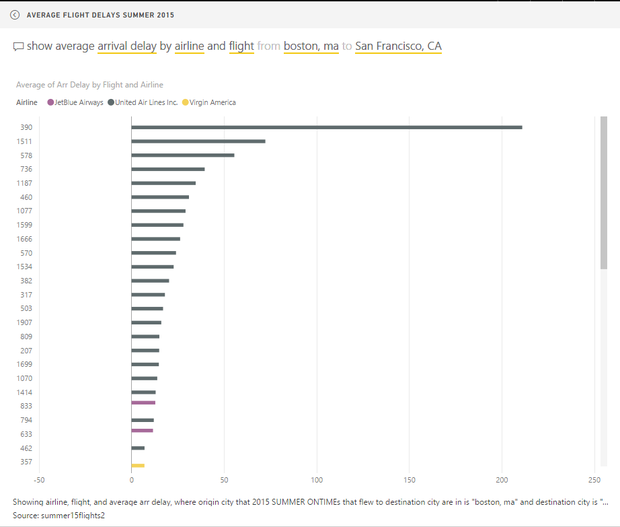 Power BI dashboards offer natural-language queries, underlining column names in your data sets.
One quibble: Trying to pull data for a city like San Francisco or New York didn't work for me because the system didn't start recognizing the city name until I typed the fourth letter; three letters and a space didn't work so well. Fortunately, I could also use SFO (for San Francisco) or JFK and LGA (for New York) from the Origin airport code -- but that's something to keep in mind if you want to use this feature and have cities in your data.
Previous Page 1 2 3 4 5 6 7 8 9 10 11 12 13 14 15 16 17 18 19 Next Page