Free data visualization with Microsoft Power BI: Your step-by-step guide
We'll show you how to analyze a file with more than two million records of U.S. airline flight delays in this hands-on tutorial with video.
I tried out Quick Insights by duplicating my project (I did a Save As to another name), and then grouping data by destination city, airline and flight. (If you want to follow along, go to Edit Queries > Transform > Group By and follow the dialog box to create a new column of average arrival delays, select Close & Apply, re-do your visualizations, then publish).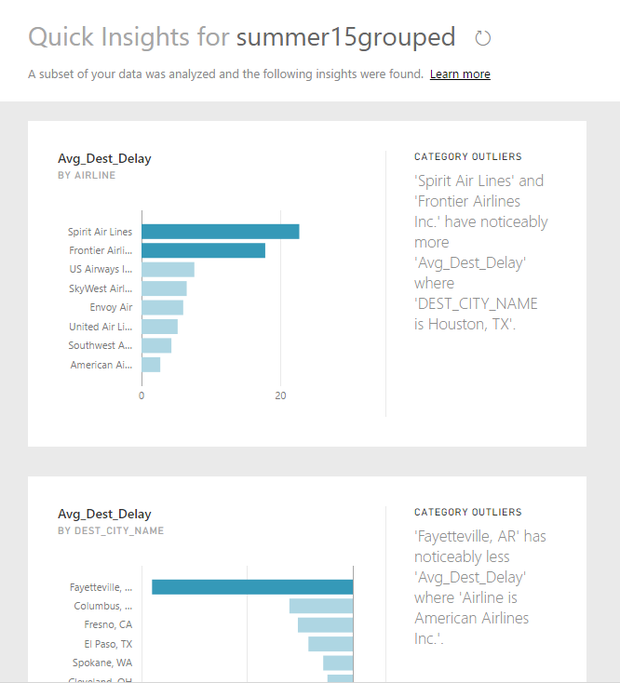 Quick Insights attempts to call out interesting aspects of your data. In order for this to work properly, however, your data needs to be in a format that it can understand.
To get Quick Insights on a data set within the Power BI cloud service, click on the ellipsis next to its name in the left-hand menu (click the three-line menu icon at the top left to show the menu if it's not visible) and choose Quick Insights. (Can't find Quick Insights? Make sure you're doing this under Datasets and not under Reports.)
After looking at Quick Insights, go the main Power BI cloud page, sign in if you need to, click the three-horizontal-line icon at the top left to view the menu (if necessary), and you should see all your Datasets, Reports and Dashboards. If you already created visualization report pages in the desktop software before publishing to the service, they'll show up under Reports (your data, not surprisingly, shows up under Datasets).
You can share a report directly to the web for public viewing, which then also allows you to embed it somewhere on your own website: Go to File > Publish to Web. Be advised that although this was free while in beta, I haven't seen Microsoft guarantee that it will stay free since it moved out of preview in early July.
If this is private data you want to share with just a few other people, you'll need to share your work as a dashboard instead. If you'd like to share an entire report page as a dashboard, click the pin (thumbtack) icon just above the page and choose to add it to a new dashboard. You can also mix and match visualizations from different pages -- or even different data sets -- onto a dashboard by clicking on an individual visualization and then clicking on the pin icon at the top right of that visualization and pinning it to an existing or new dashboard. You can then click the share icon at the top right and share with others by entering their email addresses.
The dialog box is pretty self-explanatory, letting you decide whether recipients can re-share or just view. (As of this writing, row-level security is available for some data sets, allowing only certain users to see more sensitive information in a data set, but some of the features are in preview and are likely to change.)
Previous Page 1 2 3 4 5 6 7 8 9 10 11 12 13 14 15 16 17 18 19 Next Page