FotoMagico 5 review: More impressive than pulling rabbits out of a magic hat
Create gorgeous slideshows on the Mac, complete with photos, videos, music, and text using pre-built stories or ready-made story parts.

FotoMagico 5 includes a number of export options, but only the Pro version can handle ProRes and custom video files.
Abracadabra!
As a result of forking back into two applications, a number of previous features are no longer part of the consumer version, notably timeline view, access to Lightroom or Aperture libraries, and the ability to export ProRes video files. But FotoMagico 5 Pro has several new tricks up its sleeve. Users can now incorporate placeholder text into presentations, such as EXIF metadata stored inside photos, slide numbers, or title and artist information from the currently playing music track.
Editing text in previous versions was rarely a pleasurable experience, but Boinx finally kicked the slow, inefficient OS X font panel to the curb, incorporating native formatting options directly into the Options sidebar. The company also answered the call when it comes to audio, introducing precise keyframe control over volume level—perfect for situations where automatic "ducking" of the music track can't handle the job.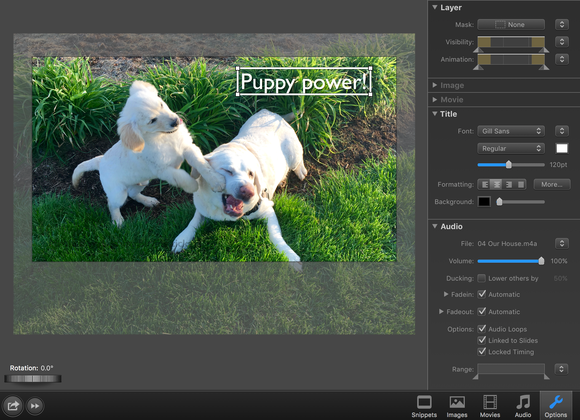 Goodbye, OS X font panel. FotoMagico 5 now includes a faster way to format text without leaving the Options sidebar.
The new Audio Marker Assistant makes it easier to synchronize images against music. Control-click an audio track, select Audio Marker > Assistant from the contextual menu, then adjust the periodic markers setting for automatic results, or you can add custom markers by pressing the M key in real-time as the track plays back.
Unless your audio file includes beats per minute (BPM) info embedded in the metadata (which the bundled Creative Commons songs do) or the track is popular enough to find this information on the Internet, this feature requires a fair amount of fiddling for best results. The assistant can't analyze songs to help automate the process, although third-party software like beaTunes ($35) can be used to detect and add BPM data to an entire iTunes library in a few clicks.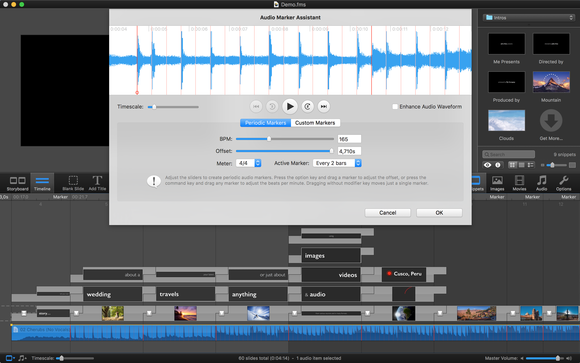 The Audio Marker Assistant feature in FotoMagico 5 Pro makes it easier to sync images to the beat of the music, but lacks the ability to analyze songs to automate the process.
Bottom line
FotoMagico 5 is a dazzling new edition of an already fantastic, affordable slideshow solution for all Mac users, but the Pro version offers the most bang for the buck.