FotoMagico 5 review: More impressive than pulling rabbits out of a magic hat
Create gorgeous slideshows on the Mac, complete with photos, videos, music, and text using pre-built stories or ready-made story parts.
OS X Photos makes it super-easy to create basic slideshows from still images, but such presentations tend to be fairly basic, with only rudimentary control over the end results. That's why I've been a longtime fan of Boinx Software's FotoMagico, which blends iLife-style simplicity with a robust set of tools for creating impressive, visually rich slideshows in up to 4K resolution. Whether it's for a wedding, to enhance travel videos, or a visual scrapbook of family memories, FotoMagico gets the job done with style and grace.
That's no less true with the recently released fifth edition, which further streamlines an already great application, making it easier than ever to create slideshows from pre-built snippets and royalty-free music capable of going far beyond OS X Photos.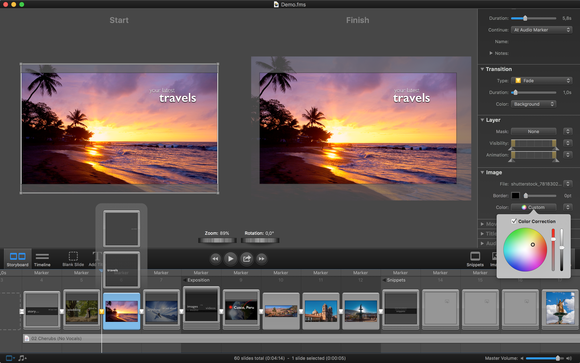 It's easy to build slideshows using FotoMagico 5's Storyboard mode and rich palette of tools.
Reuse and recycle
After consolidating separate Home and Pro versions into a single package with version 4, FotoMagico 5 (Mac App Store link) shifts things into reverse, again splitting into two releases, one aimed at consumers, the other intended for professional photographers. This approach makes the $50 basic edition cheaper than ever, while the new Pro version remains at the $100 price established by the previous release; upgrades start at $50.
Both versions adopt a new, darker user interface (with the option to switch back to the classic look if you want) which really helps make images pop off the screen, as well as Animation Assistant, which automates the process of enhancing slideshows with motion. Rather than treating every photo exactly the same, this feature accounts for the proper aspect ratio of portrait or landscape images, as well as video content and text.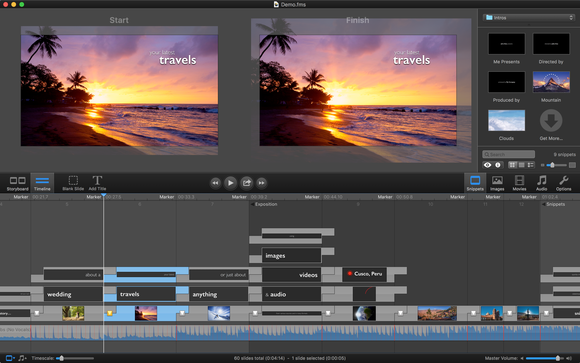 Both versions of FotoMagico 5 include the ability to build slideshows using snippets, but only the Pro edition now works in timeline view.
FotoMagico 5 also introduces a feature called Snippets, a far more powerful way to build custom slideshows. Stories can be used to create complete, start-to-finish presentations using royalty-free music in a variety of themes like Sightseeing, Beach, or Zoo, each with pre-composed placeholder shots the user swaps out for their own images.
Stories are only a starting point. You can add, rearrange, edit, or delete individual slides as needed. There are also a variety of other drag-and-drop snippets for intros, titles, split-screens, effects, credits, and music, so even if you choose to build entire slideshows from scratch, FotoMagico 5 helps automate the process without the cookie-cutter look and feel of a template. You can purchase additional snippets from the Boinx website, or create your own to reuse later in other projects.