Forecast Bar review: iOS version of Mac weather app is a breath of fresh air
Forecast Bar may be the most inevitable app ever created for the iPhone.
Equally enthralling is its implementation of Forecast.io's Time Machine feature, allowing you to to see the weather on a specific date decades into the past or future. I spent more time browsing past dates than actually checking the forecast, and if you're a weather junkie, it's worth the $2 download for this feature alone.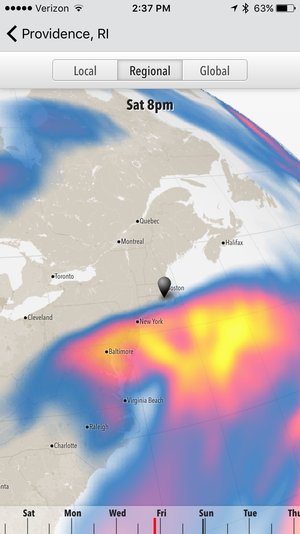 Inside the settings, Forecast Bar lets you customize things like units, language and the look of the icons, and while I wouldn't mind things like a dark mode or the ability to change the current conditions image, I was more than content with the options. My only real issue with the app was with the daily summary notification that was supposed to arrive every morning at a time of my choosing. No matter how many times I toggled the "enabled" button or fussed with the notification settings, it refused to appear.
But that was a minor issue compared to the top-notch experience Forecast Bar delivered. If you're a fan of the Mac app, the touch-tooled interface will be a pleasure to use, but even if you're not, Forecast Bar will quickly charm its way into becoming one of your favorite weather apps.
Bottom line
Forecast Bar on the Mac always had the soul of an iOS app, so it's no surprise that it shines on the iPhone.