Ford remains wary of Tesla-like autonomous driving features
Ford plans to bring out Traffic Jam Assist for consumer vehicles
"So when you look at the expense of putting all that in, is that something someone would be willing to buy for personal use? It's questionable... other than in a high-end vehicle," Visintainer said. "So for us, the economics make the most sense in a ride hailing, ride sharing mobility suite."
The Society of Automotive Engineers (SAE) International, a U.S.-based industry standards organization, has established six autonomous driving categories: level 0 represents no automation, level 5 is a fully-autonomous vehicle.
It is SAE Level 3 that has become a sticky wicket for the auto industry, including Ford. Labeled by SAE as "conditional automation," Level 3 allows all aspects of dynamic driving, such as automated turning, lane keeping and adaptive cruise control, but it has the expectation the driver will re-take control of the vehicle if prompted to do so by the ADAS system.
The problem for Tesla has been that while its Autopilot ADAS offered some level 3 automation, there was no way to force a driver to retake control of the vehicle; that has resulted in several documented accidents -- one of them fatal.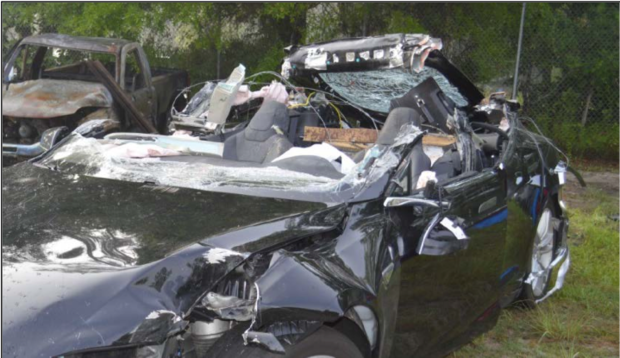 Florida Highway Safety Patrol
The damage to the Tesla Model S from the impact with a semitrailer in May.
The problem, in several high-profile examples, hasn't necessarily been that Tesla's Autopilot ADAS isn't performing as promised, but that drivers place too much confidence in it and take their hands off the steering wheel and their attention from the road.
Tesla has restated in blogs that its Autopilot requires that drivers "must maintain control and responsibility" while using it. Still, videos posted by Tesla vehicle owners ignoring that policy are readily available on the Internet.
Consumer Reports, whose past reviews showered Tesla's all-electric vehicles with praise, has called on the all-electric carmaker to disable its semi-autonomous driving system in light of the accidents and rethink the technology. That request has so far been denied by Tesla.
In June, Gil Pratt, CEO Toyota Research Institute, told reporters and analysts that the company will be focused on ADAS that is enabled by machine learning, allowing it to improve its own abilities over time.
Ford is taking a similar tact, Visintainer said. Autonomous vehicles will use both a "mediated perception" of their surroundings through high-definition maps and "direct perception" using cameras and machine learning algorithms that can identify stationary or moving objects around it.
The company has announced four technology partnerships to enable its self-driving technology, including investing $75 million in Velodyne, a Silicon Valley-based leader in light detection and ranging (LiDAR) sensors. The sensors are able to paint a 3D image of the surroundings that can create a map for the car's ADAS systems as well as continually update those maps over time.