FontExplorer X Pro 6 review: Now with more tools to manages your fonts
Better font classification, web previews and updated plug-ins highlight this minor upgrade.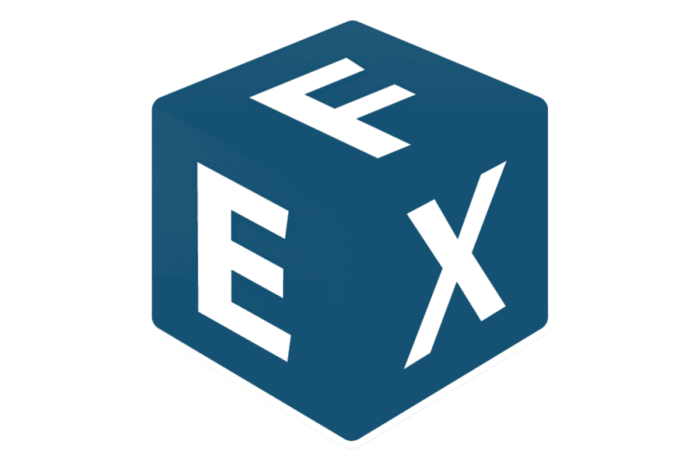 An up-to-date font management utility is a necessary tool in every creative professional's toolbox. While not as huge an upgrade as the previous version, FontExplorer X Pro 6 ($99, $49 upgrade) adds a variety of helpful new features for modern designers.
If you skipped version 5, you'll appreciate the Welcome Tour, available under the Help menu. FontExplorer Pro is an extremely robust program, and version 5 added many powerful new features. The Welcome Tour includes an overview of the product, its key features, what's new, and how it interacts with Monotype's FontExplorer Server product (sold separately).
Enhanced font tools
In previous versions, FontExplorer allowed users to assign categories to each font. Version 6 brings a new user interface for classifying fonts and many new sub-categories, all of which can be used to build smart sets.
If a font is available in the Monotype libraries and you have an internet connection, FontExplorer can automatically assign categories for you. (Monotype's libraries include more than 20,000 fonts from most font foundries.) In my testing, FontExplorer successfully classified almost all of the fonts from major foundries, some of the fonts from smaller foundries, and very few of the strange display fonts I've collected over the years.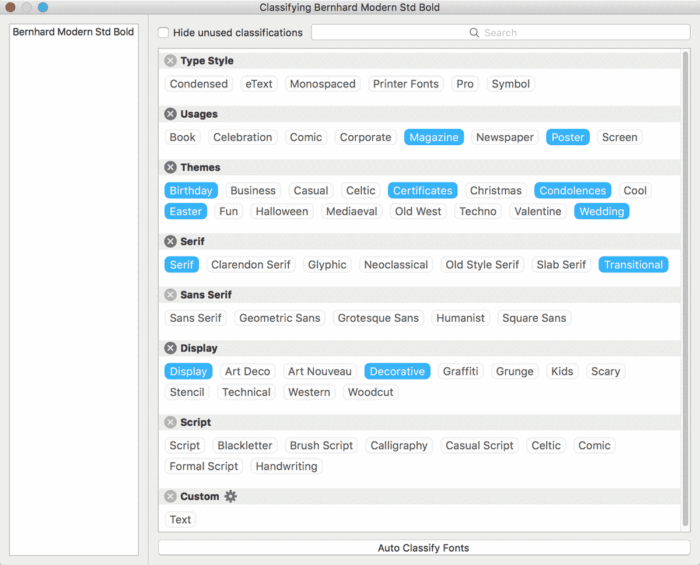 The new Classification window lets you choose from a wide variety of standard categories, or click the Auto Classify Fonts button to let FontExplorer classify them for you. You can also create and use your own custom categories.
The Font Tile View introduced in FontExplorer Pro 5 displays a word or two in each font, making it easy to find a font that has a specific flavor. In version 6, the Enhanced Font Tile View lets you display the first two letters of the font name in each tile.
You can now also view detailed font information when you mouse over each tile, add rounded corners to the tiles, change their foreground and background colors and even gradually change the background color from the first to the last tile.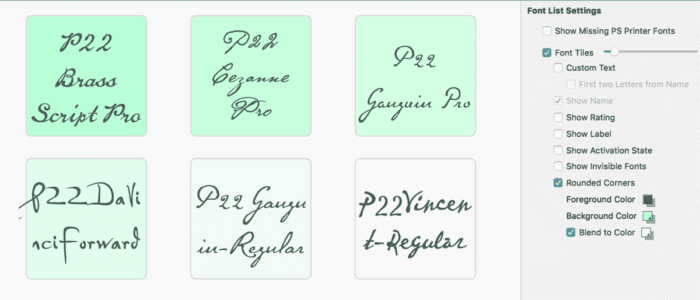 The enhanced Font Tile view with rounded corners, colored letters and colored backgrounds.
In previous versions, FontExplorer always created a new Set from fonts you import together. In version 6, the Import preference lets you define whether or not a new Set is created when importing fonts.
The "Detect Fonts in Documents" feature scans a document without opening it, displaying a list of the fonts used in that document. You can then choose to activate or deactivate fonts used in that document, create a new Set from those fonts, or generate a report. In addition to document types commonly used by graphics professionals (pdf, eps, svg, svgv, indd, idml, icml, icmt, ai, pages, key, rtf and rtfd), version 6 can now detect fonts in these additional 19 document types:
docx, dotx, pptx, ppsx, potm (Microsoft Office Open XML)
odt, fodt, ott, odp, fodp, otp, odg (Open Document)
sxw, stw, sxi, sti, sxd (Open Office 1.0)
sketch (Sketch)
sla (Scribus)