Fitbit's brand-new Charge 2 and Flex 2 step up fitness tracking
The Charge 2 scores your heart health and helps you relax with deep breathing, while the Flex 2 goes from the swimming pool to an evening out.
The Flex 2, like the orignal Flex, has no screen. Instead, it has a string of five small LEDs. In the original Flex, the lights were all white, and when you tapped the tracker to see your progress toward 10,000 steps, each light would represent 2,000. If three lights lit up and the fourth one was flashing, you'd know you were somewhere between 6,000 and 8,000 steps on the day so far, and you could always pop open the smartphone app for an exact count.
On the Flex 2, you see your step progress the same way, but now the LEDs are colored, which lets the Flex show you some rudimentary notifications too. For example, if you get a text message, you could see one pattern of lights and get a custom vibration, and then use another pattern of lights and vibrations to indicate an incoming call.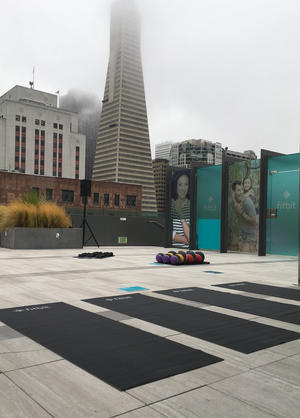 I got to test the new Fitbits with a workout led by volleyball legend Gabby Reece—this is a view of our foggy torture chamber before the pain started.
The Flex 2 is also swim-proof, the first fully waterproof Fitbit. (The Charge 2 is water-resistant, so you can work out in the rain but you probably shouldn't wear it in the shower, and you definitely shouldn't take it swimming.) Flex 2 can count laps and strokes if you use it while swimming, and it's safe for the ocean as well as swimming pools. Fitbit says the Flex 2 will also last five days between charges, but we'll have to test that more throughly in our full review.
Flex 2 keeps the same price as its predecessor, $100 suggested retail price, with straps in black, lavendar, magenta, and navy. Additional straps in blush pink, gray, and yellow are $15 each or $30 for a three-pack. Fitbit's own Luxe bangle bracelet—which is well-made and sturdy while still looking delicate and feminine—retails for $90 in silver or $100 in gold or rose gold. A Luxe pendant on a lovely 17-inch chain is $80 in silver or $100 in gold, but automatic sleep tracking might not work as well if you wear the pendant overnight—it's more suited for day-to-evening looks anyway.
Fitbit's new trackers can be found at Fitbit.com, and we'll have full reviews of both the Charge 2 and the Flex 2 shortly.
Previous Page 1 2 3