Fitbit's brand-new Charge 2 and Flex 2 step up fitness tracking
The Charge 2 scores your heart health and helps you relax with deep breathing, while the Flex 2 goes from the swimming pool to an evening out.
Charge 2 reminds you to move every hour, just like the Apple Watch, but it's a little more demanding. My Apple Watch wants me to move for one minute of every hour, and will remind me at 50 minutes past the hour if I've been stationary up until then. And the Fitbit Charge 2 does the same thing. But while I can just shake my arm around in the air for a bit (30 shakes up and down seems to do it) to satisfy my Apple Watch, the Charge 2 really wants me to walk around, for 2 minutes or about 250 steps. I found it harder to fool—guess I'll really have to get up once an hour!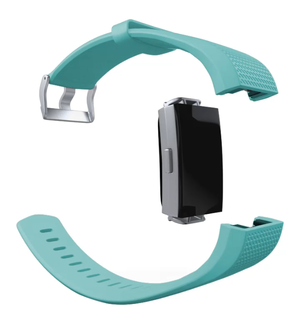 The new Charge 2 has interchangeable bands.
Another new Fitbit feature is a two-minute Relax feature that guides you through deep breathing. It's very similar to Apple's Breathe app for watchOS 3, coming to the Apple Watch this fall. Breathe starts you off with one minute of deep breathing (although you can choose to breathe for longer), and the timing of the breaths is set to a default that you can only change inside the Apple Watch companion app on your iPhone. Fitbit's Relax feature, aside from being two minutes, tries to detect your breathing rate when you launch it, and use that to tailor the experience. The breathing animation looks a lot cooler on the Apple Watch's color screen than the Charge 2's white-on-black OLED display, but both features work well. (And of course, the Charge's simpler display lets it get about 5 days of battery life per charge, while I have to charge my Apple Watch nightly.)
The Charge 2 is comfy, with a secure metal buckle, and the straps are interchangeable. Fitbit is selling the Charge 2 with a rubbery strap for $150, in black, plum, blue, and teal. A special edition Charge 2 comes with a rose gold finish on the tracker and lavendar strap, or an all-black strap with a gunmetal tracker, for $180. And brown, pink, or indigo leather straps cost $70 without the tracker included. We'll follow up with a full review shortly.
Flex 2
The Fitbit Flex deserves its name because while it can be worn in a plain rubber wristband, you can also dress it up. For the Flex 2, which is 30 percent smaller than the original Flex tracker, Fitbit is selling "luxe" bangles and pendants that look like trendy jewelry, but still let you interact with the tracker and its series of notification lights.

The Flex 2 comes with several colors of bands, with Luxe pendants and bracelets sold separately.