Fitbit's brand-new Charge 2 and Flex 2 step up fitness tracking
The Charge 2 scores your heart health and helps you relax with deep breathing, while the Flex 2 goes from the swimming pool to an evening out.
Fitbit let me test its new models—the heart-rate-tracking Charge 2 and the ultra-slim swimproof Flex 2—with an intense interval workout on a scenic San Francisco rooftop last Thursday. And my legs are still sore.
What started as a way to count 10,000 steps per day is now a full health and fitness platform, tracking all kinds of exercise, keeping an eye on your heart rate both in motion and at rest, prompting you to keep moving throughout the day, and calming you down with deep breathing exercises. The new devices are both worthy upgrades to the models they're replacing, and now the Fitbit app supports pairing more than one device, in case you want to use a Charge 2 for most of the day, and switch to the Flex 2 for swimming or a more discreet evening look.
Charge 2
The Charge 2 tracks heart rate, just like the original Charge HR, but the Charge 2's screen is four times bigger, letting you see more data at a glance and get better notifications from your smartphone. It's not quite as full featured as a smartwatch like the Apple Watch or an Android Wear device, but it checks most of the boxes—the Charge 2 can notify you of incoming calls and texts as well as calendar appointments, when it's in Bluetooth range of your phone. The app also lets you set alarms (which can be turned on or off on the tracker itself), reorder the menu items, and choose a new clock face.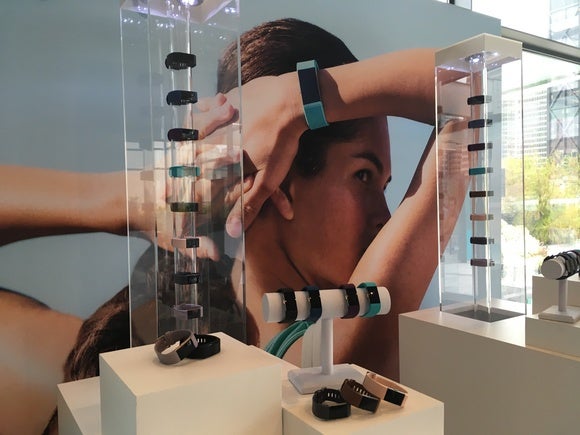 Charge 2 has a bigger screen, but is just as comfortable as the original Charge HR.
The Charge 2 has "multisport tracking" so you can use it for to track almost any kind of exercise, like yoga, ellipitcal workouts, and interval training. Some sports like running, walking, and cycling can be detected automatically, meaning you don't even have to put the Charge 2 into workout mode. It doesn't have built-in GPS like Fitbit's $250 Surge tracker, but the Charge 2 uses "connected GPS" to track your walking and running routes in the Fitbit app with your phone's GPS, and show pace and distance data on your wrist in real time.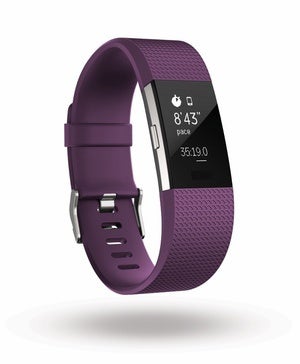 The larger screen shows more data while you're working out, and easier-to-read notifications from your smartphone.
The Charge 2 tracks your heart rate all day, and the updated Fitbit app can even give you a Cardio Fitness Score, based on your resting heart rate as well as data gathered during exercise, and compare that score to other users your age. That way, as you progress, you can see how lifestyle changes like moving more and eating healthier affect your overall score. The Charge 2 unit I've been playing with over the weekend doesn't have final software, so a full review will come a little later, but so far I've been impressed with how closely the heart rate data matches my Apple Watch.