First CIO on Workplace by Facebook talks collaboration in the enterprise
The former CIO of Clorox has a long history with Workplace by Facebook. Here he shares insights about his early days with the collaboration platform, challenges he's encountered and tips for IT pros.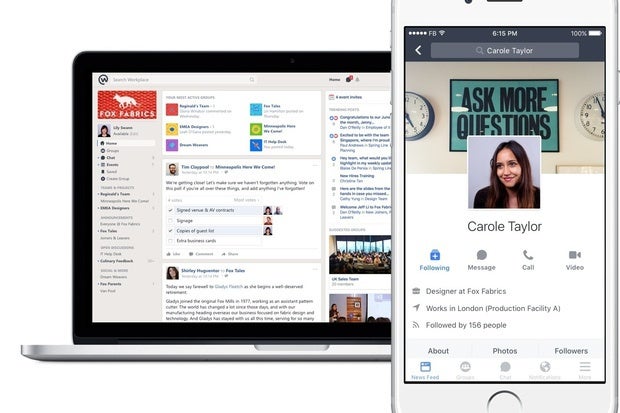 Ralph Loura says he has been using Workplace by Facebook longer than anyone outside of the company. "I'm told that I was the first CIO, the first company to use what [Facebook] then called Facebook at Work like four years ago," he says of his time as vice president and CIO at The Clorox Co.

Ralph Loura
Loura joined the skincare company Rodan & Fields as CTO in early 2016 and has since shifted the company's employees from various messaging and collaboration apps to Workplace. "Everyone in the company is using the platform internally," he says. Workplace has replaced Yammer, Slack, Skype, WhatsApp, Salesforce Chatter and many other apps, according to Loura.
The "network effect" of the Workplace deployment took hold quickly and the whole company was on board within the first few weeks, he says. As of last week, Rodan & Fields had 745 claimed accounts on Workplace, according to Loura. The company had 415 weekly active users, 32 active groups and 176 posts during the most recent seven-day period, he says. "It's something that has definitely taken root and become core to how the company operates."
Workplace brings order and purpose to collaboration
When Loura was hired by Rodan & Fields, the company had no specific initiative for collaboration and he presumes employees were using more than a dozen tools to communicate. Making Workplace the "commonplace and common model for people to interact" has transformed employee collaboration and been particularly helpful in bringing freelancers into a more unifying platform, Loura says.
Without a universal platform for colleagues to collaborate, the collection of various services and apps can lead to what Loura calls "the Tower of Babel problem, where everybody is collaborating, but they're all collaborating in a different language." When groups of employees are isolated from others, it can create much bigger problems, according to Loura.
To knock down that virtual Tower of Babel, Slack and Yammer have gone away as communication channels, Loura says. Work Chat, Facebook's version of Messenger for Workplace, has also replaced Skype and other tools employees were using for video and audio communication, according to Loura.
Workplace is less taxing from a technical resources perspective as well. "Usually we have two half-time resources to help manage engagements on the platform, and now we're down to less than half of that," Loura says. Still, Workplace presents IT professionals with some challenges, he says. Work Chat is a seamless experience on mobile devices, for example, but Workplace doesn't have a persistent agent for chat on the desktop. Loura says he and many other Workplace customers want Work Chat to be pulled out as a separate app so it could behave like other persistent chat apps such as Slack and the recently launched Microsoft Teams.