FileMaker 15 review: Evolutionary release with a new licensing program
Coming soon to an Android screen near you.
With version 15, the FileMaker platform gets better, and it was pretty good already. But in terms of features, FileMaker 15 is an evolutionary rather than revolutionary release. Many existing users may not feel the need to rush to upgrade, and both new and current users may find the new licensing options a bit confusing.
Go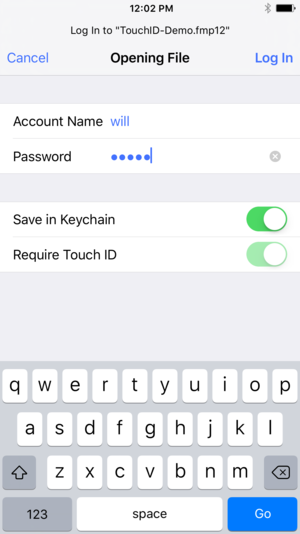 FileMaker Go 15 allows you to save your login to the iOS Keychain, so next time you can get in using Touch ID instead of having to type your name and password.
FileMaker Go (free on the iTunes Store) allows iPhone and iPad users to access and run FileMaker custom apps. Go only lets you use the app to access and manipulate its data; you can't create a custom app in Go.
Want to build a relational database from scratch on your iPhone? Check out Airtable. The difference between Airtable and FileMaker is instructive. Airtable is all about managing your data, and at that it does a brilliant job. By contrast, these days, FileMaker isn't just a data-management tool; in fact, for a growing number of FileMaker developers who are using SQL back ends, FileMaker isn't about managing the data at all. What really sets FileMaker apart is its strong toolset for creating rich user interfaces, or, in a word, apps.
FileMaker custom apps built for iOS are now even "appier." With the iPhone 6s or later, Go 15 supports 3D Touch. On the iPhone 5s and later, you can now log into apps in FileMaker Go using Touch ID. As with other apps supporting Touch ID (such as a bank app), once you authenticate the old-fashioned way and permit iOS to store your credentials in Keychain, subsequent logins can be done via Touch ID, which is definitely easier and arguably more secure than typing a weak password on your iPhone. FileMaker Go 15 also supports app extensions that will make interaction with many other apps on your iOS device easier.
FileMaker Go 15's other novelty is support for iBeacons. A FileMaker 15 database can be designed to capture iBeacon signals from one or more beacons within a defined distance from the iPhone; the beacon location data can then be analyzed so users can be told what they're close to.
I confess that I had never heard of iBeacons before, but despite being late to this party, I found it quite easy to set up a FileMaker Pro custom app to capture an iBeacon signal and convert it into useful info. If you're using FileMaker technology, say, to manage inventory in a large warehouse, you may want to take advantage of this right away. And in six months or a year, you may find museums and public gardens using FileMaker databases capturing iBeacon signals to provide guided tours.