Fantastical 2.2 for OS X review: More maturity and integration with Exchange
A major update to Fantastical 2 refines rough edges, extends invitations, adds features like printing, and improves time-zone management.
The biggest addition in version 2.2 is native support for Exchange. Previously, Exchange was handled slightly indirectly, giving the app limited ability to interact with the server. Now, Flexibits says Fantastical lets its users respond to invitations, check someone's current "presence" status (whether they're free or busy), find people via an Exchange directory, and view categories. (I was unable to test these features as I'm not connected to any firms that use Exchange.)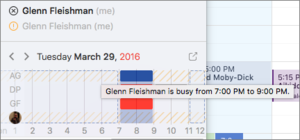 A new feature in 2.2 lets you see availability of invitees if the calendar server offers support.
More generally, Fantastical offers better interaction with iCloud, Google Apps, regular Google accounts. While adding people to a Google Calendar event, Fantastical can suggest names from your Google contacts. iCloud notifications for shared calendars now appear. Google Hangout links work with Google Apps accounts, where before they worked only with regular Google accounts.
And, depending on the remote server's options, you can see when people are available to make appointments. Peering into availability is a feature long available in intranet software—I was using a package 25 years ago that offered this. It's nice to see it in a consumer-level product that can provide, in the right circumstances, enterprise-style interaction.
The latest version also lets you send event invitations and responses via Apple Mail or Airmail when a CalDAV server doesn't have the hooks to handle it directly within Fantastical. That's just another edge shaved down for people who have this server issue.
In the small-but-welcome department, holding down the Option key after showing the inbox for notifications and invitations now lets you click an OK All button, dismissing multiple messages in one go.
Watching the days drop from the wall
Version 2.2 finally adds printing. That's "finally" without irony, as many people still like to have a hard copy version of a schedule that they can annotate, give to others, or pin up on a bulletin board. The first pass at printing is comprehensive, as if it had matured alongside other features in the last year.
You can choose among the four views (day, week, month, and year) and a list, pick time periods and the number of said time periods to print, and even select your calendar set within the print dialog—that last nuance is rather nice for a new feature. You can also toggle the sorts of events (all-day and timed) and legends (calendar week numbers, tiny inset months) and color.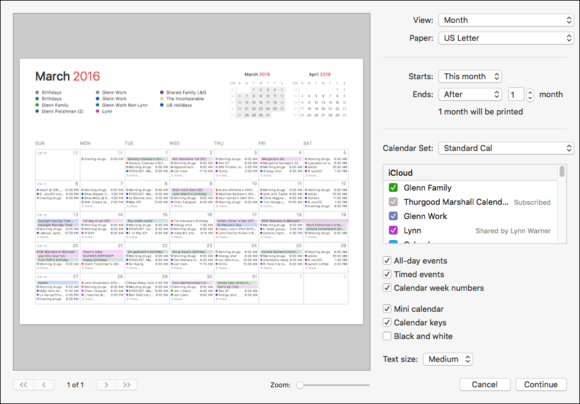 A printing option new to version 2.2 has robust options for customizing and limiting.
A change introduced in the last version continues to be useful months later. By interleaving reminders into graphical calendar views, instead of making them a separate display kind of thing, reminders fit much better in my workflow. While timed or untimed events that can be marked as completed are distinctly different from appointments at a given time for a specified duration, it's incredibly useful to see reminds and appointments in one place.
Previous Page 1 2 3 4 5 6 Next Page