Fantastical 2.2 for OS X review: More maturity and integration with Exchange
A major update to Fantastical 2 refines rough edges, extends invitations, adds features like printing, and improves time-zone management.
Time zones are supported in reminders, but not floating times, and the time zone isn't shown for reminders, though it is set correctly; the problem is with how Apple handles reminders, not Flexibits, however.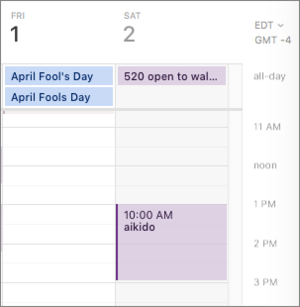 You can add a second time zone axis on the right, set to any zone in the world you want.
The current time zone is derived from the system, but can be overriden in the Advanced preferences. I've found time-zone controls maddening in Apple and other apps; Fantastical has the best controls to set and events. It does lack a visual reminder in the list and datebook views that an appointment's time is non-local, which I feel is overdue for fixing.
Even better in version 2.2, for those who are working with people across multiple time zones or travel frequently, is a second axis time-zone scale that you can enable. In Advanced preferences, you can opt to show a second time zone, which appears in day and week views, using any zone you like. This doesn't affect when events are shown, but let you glance from right to left to see the time in that zone. Very clever.
Flexibits uses Calendar Sets to manage which of your calendars appear. I've wound up with about 25 personal, family, hobby, and work calendars across seven accounts, and I typically don't need to see all of them. Rather than constantly display a list of all calendar, active or otherwise, Fantastical offers a Calendars preference to build sets which can be selected among in a pop-up menu at the bottom of the list view. It goes further, too, by using geofencing to choose which set should appear when arriving or leaving at a set location.
Version 2.1 added a right-click option to Duplicate a set, making it easier to have a model version that you modify, instead of rebuilding your selections from scratch for each new set. I definitely miss the ability to toggle one calendar on and off, but I also appreciate I use this so infrequently that I prefer having the screen space back for useful information I refer to all the time.
RSVP
Fantastical worked with Google's calendaring system in previous release of version 2, but 2.2 is the first that steps up to offer more robust support and for a broader array of systems and software for the whole process of finding attendees, checking their availability, inviting them, and managing responses. These improvements mean more people can take advantage of using the app as a hub for collecting people for an event without having to switch to other calendar software or web apps for some controls or options.
Previous Page 1 2 3 4 5 6 Next Page