Fantastical 2.2 for OS X review: More maturity and integration with Exchange
A major update to Fantastical 2 refines rough edges, extends invitations, adds features like printing, and improves time-zone management.
Speak freely
Flexibits has always stressed its natural-language aspect, and it works as well or better in OS X than in iOS. (I've used the iOS version for years.) You can typically type a narrative sentence like, "Meet Laci at 10:15 a.m. at 123 Every Street, New York, NY for two hours on Tuesday and set an alarm an hour before," press return, and you're done. The date is set by default to the current one selected in the calendar view; the address added to the location field; the end point figured out; and the alarm turned on.
This lets you include the kitchen sink when you make an appointment instead of needing to tap buttons and flip levers later, though those options are available to modify as you want. You can also add entries in the drag-and-release model on the calendar layout, but even then Fantastical takes your mouse movements and fills in the parameters related to them and moves the text-entry focus to its fill-in field.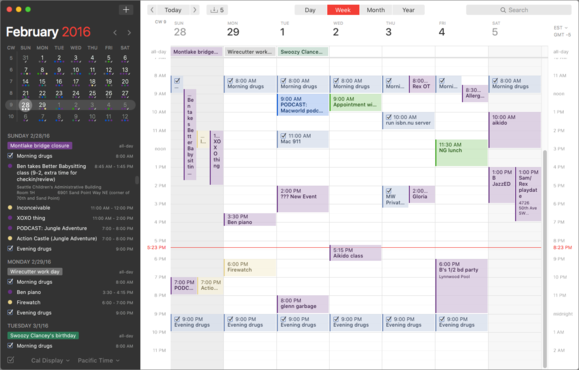 Fantastical orients itself around its event list view.
The supported vocabulary is quite large, though it's easy to stump it. For instance, entering, "eat bitter greens every night at 8 pm" works just fine, but "eat bitter greens at 8 p.m. nightly forever" does not. Flexibits says it will be responsive to feedback and expand the vocabulary based on user requests. Starting in version 2.2, the app recognizes partial matches for place names, such as retail establishments, which reduces a step when you want an address attached.


Version 2.2 recognizes potential locations and offers auto-complete suggestions.
Reminders have more limited parameters, and you can preface your to-do sentence with "reminder" or "remind me to" or the like. If in the process of creating a reminder or event, you can click a switch to flip to the other kind of entry. Version 2.2 also adds the ability to drag and drop the preview shown on the calendar based on your natural-language entry, which is a nice bit of additional flexibility.
As with most mature software, Fantastical rewards you by experimenting or becoming a more sophisticated user. While it appears at first glance that you have to choose a calendar from the popup entry rather than type it in, Flexibits hit the shortcut of using a slash followed by the unique part of a calendar name and the appropriate one appears in the calendar field for the entry in progress. If you have calendars named "Soccer", "Office", and "Shared Family", you only need to enter "/So", "/O", and "/Sh" to match uniquely.
Previous Page 1 2 3 4 5 6 Next Page