Fantastical 2.2 for OS X review: More maturity and integration with Exchange
A major update to Fantastical 2 refines rough edges, extends invitations, adds features like printing, and improves time-zone management.
As Apple's calendar apps for iOS and Mac OS X moved across recent releases from inconsistent, inadequate, and irritating to more or less just fine, the market for replacements grew and matured. Fantastical for iOS, now in its second release, filled a gap there by not just presenting a clean list and offering strong support for different calendar systems, but also its natural-language processing. Type in a semblance of an event, and Fantastical would parse it and place it for you without fuss.
Fantastical's makers, Flexibits, brought a kind of snippet of Fantastical to OS X in its 1.0: a drop-down day view closely reminiscent of the iOS version. Its 2.0 release in March 2015 was a full-fledged replacement for Apple's Calendar and a strong competitor to similar products. The 1.0 view turned into the Mini-Window, an optional system menu bar pop-down that gives a capsule view. A 2.1 update later in the year answered many of our concerns in the initial release, but the just-released 2.2 update takes it much, much farther, making it a serious contender in Exchange-based offices.
The guiding philosophy for Fantastical 2 is that it's a calendar app that focuses on upcoming events in a list view, keeping that view active no matter whether you're looking at a graphical layout of day, week, month, or year. I live in the week view, and the combination of the upcoming list and a glance at the current week tends to work well together.
The 2.1 and then 2.2 releases improved and extended ideas sketched out in the initial release, which prompted updated reviews for both versions. In 2.1, Fantastical interleaved reminders that have a date or date and time set in the graphical calendar view. While this can be disabled, it allows a more seamless flow of untimed reminders, appointments, and to-do items that would seem to better fit how many people approach deadlines and completion.
With 2.2, Fantastical is a much more full-fledged part of the process of finding mutually agreeable times for meetings or events with other people, from seeing attendee availability to sending invitations to responding to invites. The user interface continues to deepen, with this release adding multi-event drag-and-drop, enhanced time-zone support for simultaneous display, and (finally) printing! The last was a notable omission that many readers clamored for.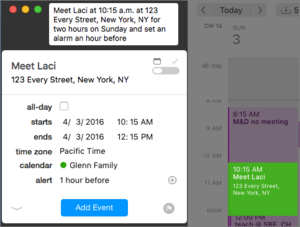 Type in something that's very nearly a descriptive sentence and Fantastical 2 parses out the event information.
Fantastical can pick up existing accounts and calendars set in the Accounts system preferences pain, or stored locally or via Exchange, as well as let you manually add other iCloud, Google, Yahoo, and Fruux accounts, or any CalDAV-compatible calendar link. This 2.2 release has full, native Exchange support as well, allowing direct access for invitations, people's availability status and lookup, and other features.