Fantastical 2.1 for OS X review: An even better Calendar replacement
As Apple's calendar app for iOS and Mac OS X moved across recent releases from inconsistent, inadequate, and irritating to more or less just fine, the market for replacements grew and matured.
Version 2.1 added a right-click option to Duplicate a set, making it easier to have a model version that you modify, instead of rebuilding your selections from scratch for each new set. I definitely miss the ability to toggle one calendar on and off, but I also appreciate I use this so infrequently that I prefer having the screen space back for useful information I refer to all the time.
Every day, I remind myself to write the book
Fantastical's growth from 2.0 to 2.1 addressed nearly all of our concerns in our previous review. By interleaving reminders into graphical calendar views, reminders fit much better in my workflow. While timed or untimed events that can be marked as completed are distinctly different from appointments of a given duration, it's incredibly useful in managing one's time to see them in one place.
Being able to disable that interleaving is nice as well for those who prefer to keep reminders and appointments separate (Preferences > Appearance, and uncheck Show Reminders in Day, Week, and Month). Reminders can have no priority or three levels—low, medium, and high—and be sorted by priority and due date, due date, or title. You can swap between viewing a list at the far left of events (including interleaved reminders) or just reminders, with Command-R or an icon click at lower left.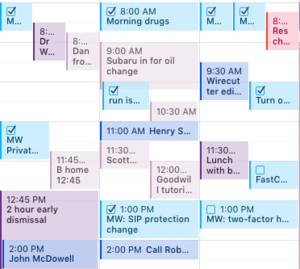 Version 2.1 displays simultaneous event more clearly if you reduce the type size.
Version 2.1 also fixed a problem that I found severe for my purposes in 2.0. The weekly view is the one I tend to keep open at all times, and Flexibits didn't appear to factor in the notion of two or more simultaneous events occurring as with shared calendars for work, sports, or family. Other programs adjust an event's width or typeface dynamically to provide more of a cue in the graphical layout. A promised text-size control was added—View > Make Text Bigger/Smaller—which allows a good tradeoff between size, overlap, and legibility.
Two rough spots remain. For a program that has a lot of synchronization options for calendars, it lacks one important one: you can't sync account information or other settings, like Calendar Sets, between multiple computers running Fantastical (I have two), or shared feature settings between iOS and OS X. This means setting up Fantastical from scratch on each device and, when a change occurs, managing it on each device as well. The company opted to not use iCloud for syncing, as it offers the software in the Mac App Store and directly as well, but there are many other sync options for these kinds of configuration details.
Previous Page 1 2 3 4 5 Next Page