Fantastical 2.1 for OS X review: An even better Calendar replacement
As Apple's calendar app for iOS and Mac OS X moved across recent releases from inconsistent, inadequate, and irritating to more or less just fine, the market for replacements grew and matured.
In its drive to keep its approach clutter-free, options besides the basics are hidden while creating or when editing an event or reminder. Tapping a down arrow reveals items, such as invitees, URL, and notes, as well as time zone and repeat in the default area if they haven't already been set for an event. Given that I often need to enter notes, I wish there were an opt-in preference that allowed the drop-down options to open by default.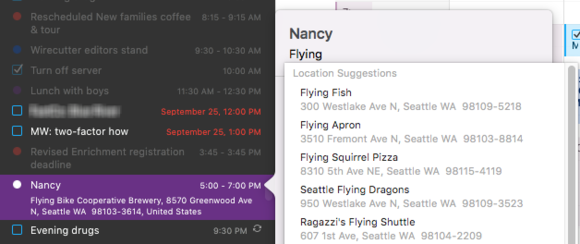 You can start typing an address, and Fantastical offers suggestions from Google Maps, including items you've stored there, such as Home.
In version 2, navigating to a date on the graphical calendar layout and adding an event would end with a snap back to the current date. If you needed to enter multiple events at that time or edit the details of what you just created, you had to navigate back. Fortunately, version 2.1 adds a preference that lets you opt whether or not to stay put after creation. It also lets you cut, copy, and paste events, allowing another method for interacting that fits in naturally.
For frequent travelers, Fantastical supports fixed and floating time zones for events: the former used for events occurring at a specific time in a given geographic area (an appointment or a flight) and the latter that should happen at the time of day (such as taking a medication) regardless of where you are. Enter a time zone in natural language or the word "float" or "floating" and Fantastical places it correctly.
Time zones are supported in reminders, but not floating times, and the time zone isn't shown for reminders, though it is set correctly; the problem is with how Apple handles reminders, not Flexibits, however.
The current time zone is derived from the system, but can be overriden in the Advanced preferences. I've found time-zone controls maddening in Apple and other apps; Fantastical has the best controls to set and events, though it does lack a visual reminder in the list and datebook views that an appointment's time is non-local.
Flexibits uses Calendar Sets to manage which of your calendars appear. I've wound up with about 25 personal, family, hobby, and work calendars across seven accounts, and I typically don't need to see all of them. Rather than constantly display a list of all calendar, active or otherwise, Fantastical offers a Calendars preference to build sets which can be selected among in a pop-up menu at the bottom of the list view. It goes further, too, by using geofencing to choose which set should appear when arriving or leaving at a set location.
Previous Page 1 2 3 4 5 Next Page