Fantastical 2.1 for OS X review: An even better Calendar replacement
As Apple's calendar app for iOS and Mac OS X moved across recent releases from inconsistent, inadequate, and irritating to more or less just fine, the market for replacements grew and matured.
This lets you include the kitchen sink when you make an appointment instead of needing to tap buttons and flip levers later, though those options are available to modify later. You can also add entries in the drag-and-release model on the calendar layout, but even then Fantastical takes your mouse movements and fills in the parameters related to them and moves the text-entry focus to its fill-in field.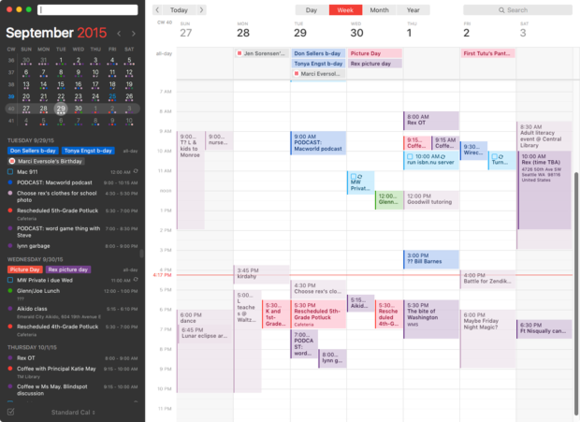 Fantastical orients itself around its event list view, though the graphical calendar display has improved in version 2.1.
The supported vocabulary is quite large, though it's easy to stump it. For instance, entering, "eat bitter greens every night at 8 pm" works just fine, but "eat bitter greens at 8 p.m. nightly forever" does not. Flexibits says it will be responsive to feedback and expand the vocabulary based on user requests, and even did so during the beta-testing phase.
Reminders have more limited parameters, and you can preface your to-do sentence with "reminder" or "remind me to" or the like. If in the process of creating a reminder or event, you can click a switch to flip to the other kind of entry. That's the one click you might find useful during item creation.
As with most mature software, Fantastical rewards you by experimenting or becoming a more sophisticated user. While it appears at first glance that you have to choose a calendar from the popup entry rather than type it in, Flexibits hit the shortcut of using a slash followed by the unique part of a calendar name and the appropriate one appears in the calendar field for the entry in progress. If you have calendars named "Soccer", "Office", and "Shared Family", you only need to enter "/So", "/O", and "/Sh" to match uniquely.
Or you might notice that days and times are entered in a literal format when you drag and drop, and thus enter the current date in full, like 3/25/15, to create an all-day event.
Work the mouse and keyboard
An app that grew from an iOS sensibility definitely believes in minimizing the number of "touches" with a mouse as well. This generally works to its advantage. For instance, in the year view—often a somewhat wasted view in other calendar programs that provides too much information and too little functionality—Fantastical uses shading to indicate the intensity of a day from yellow (least) to red (most). Hovering over a day for a moment reveals a floating summary; clicking a day scrolls the list at left to that day's activities.
Clicking an event in the list sidebar or in the Mini-Calendar list or double-clicking an event in the weekly or monthly view brings up an editable pop-over with the same options found when you initially create an event. This also appears when selecting an event in the day view, although in a separate right-hand pane.
Previous Page 1 2 3 4 5 Next Page