EverWeb 1.8.2 review: Well-crafted web design app knows its limits and often surpasses them
One of the best options for new or casual web designers.
This rudimentary support's still better than none. Compared to my experiences trying to set up responsive designs in other apps, I found it a lot easier and less aggravating to just build dedicated mobile pages here.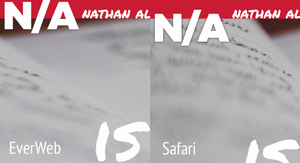 As you design, bear in mind that some fonts might not display quite the same in your browser as they do in EverWeb.
It took me about 12 hours total to build both desktop and mobile versions of a sample site. EverWeb's resulting code wasn't the cleanest, duplicating CSS stylesheets and JavaScript code on every page in ways that increased file sizes and load times. But EverWeb's creators say version 1.9 will add svelter, smarter coding.
Bottom line
EverWeb doesn't do everything perfectly. But it does enough things well, and does them in such a considerate, user-friendly way, to make it one of my favorite web apps among those I've tested. Pro designers will want a program with more oomph, and complete novices have even simpler alternatives that'll still yield good results. Everyone in between should definitely give EverWeb a try.
Previous Page 1 2 3