EverWeb 1.8.2 review: Well-crafted web design app knows its limits and often surpasses them
One of the best options for new or casual web designers.
EverWeb's CSS menu widget works very well—up to a point. It updates automatically based on your site's structure, and you can easily exclude pages from it if you don't want them listed. With little effort, you can adjust each your menu's look, spacing, and rollover behavior. But the menu's designed to work best horizontally; you can squeeze the options into a vertical column, but any drop-down submenus will appear awkwardly on top of the successive links. There's also no way to shrink the menu down to a space-saving icon for mobile pages.
I was especially impressed by the PayPal widget, which hooks smartly into that service's infrastructure to create moderately full-featured online stores. Few rival programs offer any e-commerce option this powerful, and the few that do charge extra for it.
You'll find even more widgets hosted on or linked from EverWeb's site. Many are free, while others come in $6 packs grouped by type and capabilities.
EverWeb also wins kudos for superbly simple asset management. You can drag images, PDFs, ebooks, and other files directly into your asset library, then easily call upon them for backgrounds or links. When you're ready to take your site live, EverWeb will upload it via FTP, export the files to be uploaded elsewhere, or send it to EverWeb's own integrated hosting service (whose annual cost isn't included in the basic purchase price).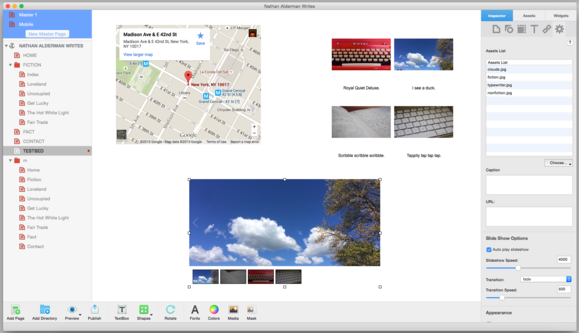 An impressive selection of readymade widgets, each easily customized, enable you to enhance your site with photo galleries, image sliders, and more.
We can work it out
Even when it hits its limits, EverWeb often tries admirably to offer you a way around them. The results aren't spectacular, but they work well enough.
For example, there's no built-in roster of web-safe fonts to use, and no simple way to add your own. But EverWeb's smart enough to add necessary code enabling any Google Fonts you've already installed on your computer. (I did notice that EverWeb displayed Google Fonts oddly, pushing them farther down from the top of their text boxes than the browser did. But once you know that quirk, you can adjust your design accordingly.)
The program's help site also links to step-by-step instructions for using EverWeb's assets library and custom header and footer code to slip third-party web fonts into your design—a little extra work, but still more than most rivals can offer.
And while EverWeb doesn't offer adjustable breakpoints or other responsive design features, it does provide the aforementioned mobile-ready templates, plus easy options to redirect a page to a mobile counterpart.
You'll have to create extra pages—consuming extra server space and bandwidth—to support mobile users. And EverWeb assumes your site's at the top of your server's directory structure. If it's buried a few folders deep instead, the redirect feature breaks, and you'll have to manually specify the full address of each mobile page, rather than just picking its name from a list.