Embarcadero moves RAD Studio beyond Windows
RAD Studio XE8 paves the way for app tethering and proximity-based beacon networks.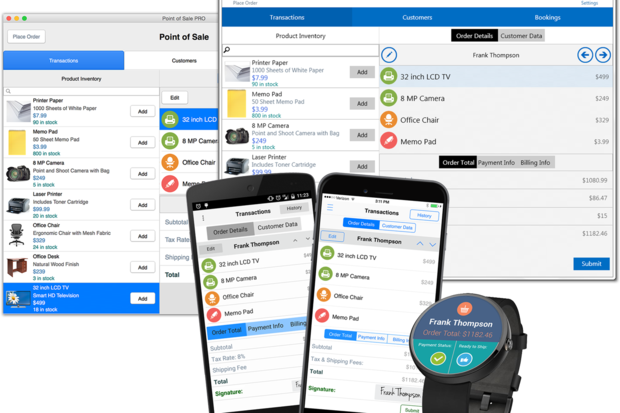 Embarcadero RAD Studio 8 prepares the Windows developer for multi-platform app development. Credit: Embarcadero
Software development is moving beyond the desktop computer. With this in mind, Embarcadero has strengthened its flagship Windows RAD Studio IDE (integrated development environment) to better help build mobile apps and software for Internet of Things (IoT) devices.
"Today's Windows developer is really a multi-platform developer," said John Thomas, Embarcadero's director of product management.
The vast majority of RAD Studio users now must write both Android and iOS apps, in addition to the Windows applications they've historically used the development software for, Embarcadero found in a recent customer survey. In addition, more than 70 percent of the developers surveyed will also ramp up IoT projects for their employers in 2015. RAD Studio XE8 provides the base for building applications in either C++ or Delphi.
With Tuesday's release of RAD Studio XE8, Embarcadero has focused on adding support for non-Windows platforms.
Most notably, the new version of the software features live previews, which allows a developer to see what the app's user interface will look like on Windows, iOS devices, and Android-based phones, tablets and watches. Developers can also add in their own custom form factors for other devices.
Live previews streamline the process of building cross-platform applications, in which a single code base is used to handle the core logic of a program, while each platform that the program runs on gets a customized interface for that environment.
With RAD Studio XE8, developers can now build 64-bit apps for iOS devices, in addition to building 32-bit apps that RAD Studio already supported. Apple has recently mandated that all apps submitted to its app store have a 64-bit versions, for those consumers using Apple's recent iPhones 5s and iPhone 6 models.
Also, this release allows iOS developers to use the native controls offered by iOS itself. Developers can now use the native controls for speed, while still being able to use RAD Studio's cross-platform capabilities to reuse the code on other platforms.
For the IoT devices, RAD 8 now provides a way for software to securely support app tethering. A developer can build an app for a small device that connects to a device by way of Bluetooth or WiFi. With these features, someone could build a watch app, such as fitness tracker, that synchronizes operations and data with another app on a phone or computer. App tethering can also be used for industrial devices.
Also for the IoT developer, RAD 8 streamlines the process of building in proximity awareness for beacon based networks. A department store or concert venue could use beacons, for instance, to broadcast by Bluetooth the locations of food or souvenir stands. The software makes it easy for a mobile app to capture beacon information and display it on a map, so users can easily locate the food and souvenir stands on their phones.