Dragon for Mac 5: Despite bugs, an upgrade worth making
The state-of-the-art speech-recognition product for the Mac improves markedly, but there are also gaping holes where it needs improvement.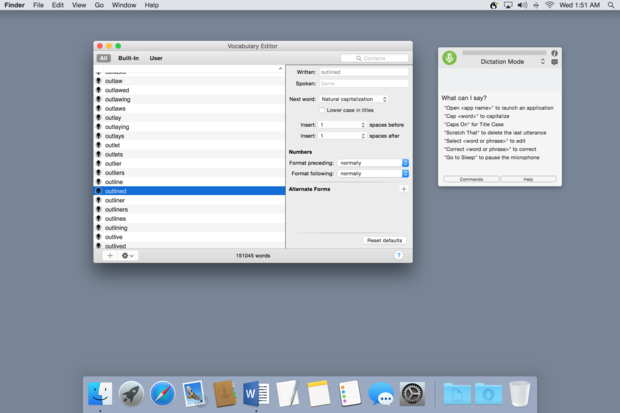 Credit: Nuance
My first Dragon for Mac 5 installation experience wasn't pretty. I've been using Nuance's Dragon for the Mac for several years and experience has taught me that with any major new version of the product, it's prudent to wait two to three weeks for the inevitable minor revisions in hopes that the program will become a bit more refined. Unfortunately that wasn't the case.
In a moment, I'll circle back to that story and what I finally did to get Dragon for Mac 5 installed properly and running well. In fact, I've come to admire this version of the program. While there is plenty to pick at, overall Dragon for Mac 5 is a very worthwhile upgrade. It would also be a great place to get started on dictation if you've been waiting in the wings.
Dragon for Mac 5 was introduced in a Nuance webcast on August 18. The company introduced several new products targeting Windows and Mac users, mobile users and enterprises. Plus there's a new central administration tool called Nuance User Management Center that manages licensing and shared customizations.
The company has an interesting way of naming its products these days. Besides moving from what was called Dragon Dictate to the more logical Dragon for Mac ($200), the new version of Dragon that you might have expected to be called Dragon NaturallySpeaking 14 for Windows is now called Dragon Professional Individual ($300). (There are also lower-cost, less-powerful versions for home use.)
The enterprise product is called Dragon Professional Group. The company also announced a new cloud/mobile product called Dragon Anywhere, which is due to be released in the near future. It's part of the enterprise solution Nuance is offering, but it will be of interest to individual users as well since it will let you sync multiple installations of Dragon, across platforms.
I intend to test and write about both Dragon Professional Individual and Dragon Anywhere. But for now, back to the Mac product.
What's new or improved
Nuance's chief claims for the new version of Dragon for Mac include a 15% increase in dictation accuracy and performance improvements. Nuance also completely overhauled the user interface and changed the paradigm from application to operating system service.
Dragon for Mac 5 no longer sports a traditional Macintosh set of application menus. Many of Dragon's functions are voice directed, but the complete point-and-click user interface is accessed via a single drop-down menu from a tiny Dragon icon on the right side of the Apple menu bar.

Dragon for Mac 5's one and only menu. It's compact but there's nothing missing. Dragon 5 looks very very different from its predecessor, but they have most of the same controls and settings.