Divinity: Original Sin II preview: Choose your own reactive, gloriously chaotic adventure
And it's coming to Early Access on September 15.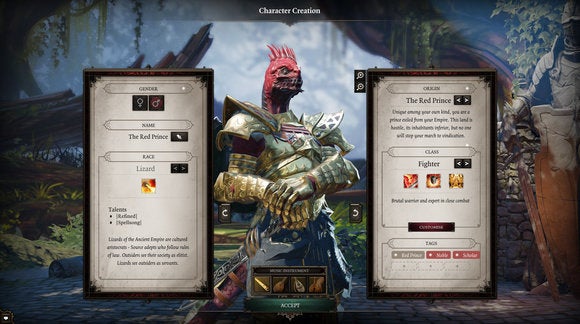 Anyway, after Vincke winced at my choice of battlemage (low initiative and low health, which meant I was targeted and killed early in almost every battle) I was dropped into the game alongside gun-for-hire writer Chris Avellone, who's authoring one of these unique characters for Original Sin II.
And that's how ten minutes later I found myself on fire, roasting alive and watching my health bar plummet while Vincke said "Chris, do you have—can you rain blood on him?" And he did, and the fire I foolishly stumbled into extinguished itself under a heavy downpour of blood falling from the sky.
Divinity: Original Sin II is horrifically funny, in co-op.
Seriously. I mean it. The first Original Sin was pretty great in co-op also, with players by no means required to cooperate in any form, but Original Sin II raises the potential for mayhem. It seemed like no matter what Avellone and I did, hell was bound to break loose.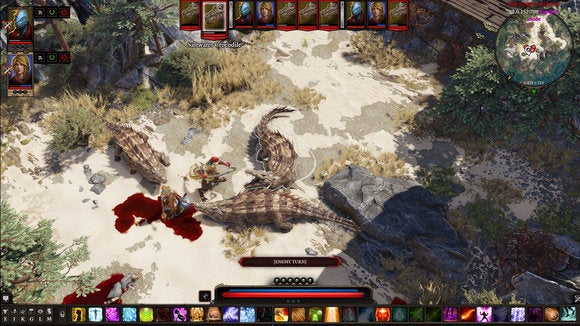 Take the eighteen-foot alligators I mentioned above. The reason we went after them? One of them swallowed a teleport stone, and a shady character told me if I retrieved it for him, the two of us could escape the prison we were in. Then the same shady character went and (unbeknownst to me) offered the same quest to Avellone.
Had we defeated the alligators, the two of us would've been in a deadly struggle to secure the teleport stone and rush it back to the questgiver so that one of us could've escaped from prison, thus fulfilling the much-larger goal that arcs over this introductory chapter. Or maybe we could've killed the questgiver, taken his stone, and both of us could've escaped.
Did I mention you can play with up to four people in co-op?
More important: Did I mention the alligator who swallowed the teleport stone keeps setting it off accidentally in its stomach, disappearing and reappearing at random all over the battlefield?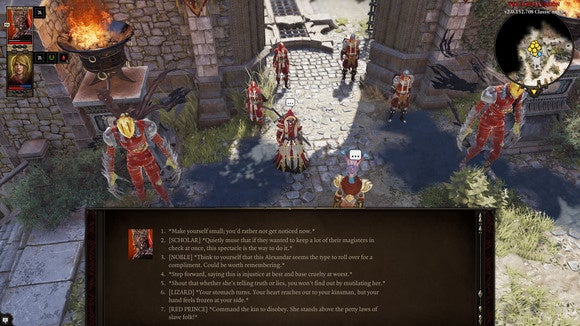 It's the same sort of systems-driven insanity that made Divinity: Original Sin an instant classic, but expanded upon with a more coherent story and a more confident hand. Where the first Original Sin felt like an experiment, this feels like a "Yeah, we've got this" on Larian's part. The game feels immediately familiar—with the same turn-based combat, lengthy written dialogues, and dungeon-crawling through vibrant landscapes—but expanded upon in a dozen different directions. More traits, more spells, more everything.