Disk Drill Pro 2 review: Last line of defense for Mac data recovery
Disk Drill 2 is your first and last line of defense for dealing with misbehaving volumes on the Mac, and the Pro version easily pays for itself the first time trouble comes along.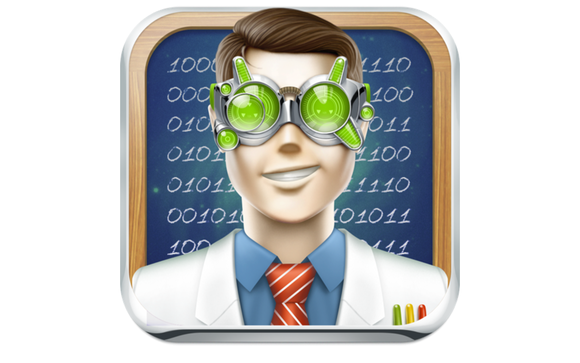 Although faster, more durable solid-state disk storage (SSD) eliminated spinning platters and therefore reduces the chance of losing precious files due to mechanical failure, there are plenty of other ways drive-related catastrophe can rear its ugly head. Frequent backups are one highly recommended method of protection, but that alone isn't enough to prevent complete data loss.
As the old saying goes, the best offense is a good defense. In the case of your Mac, that strategy involves keeping good data recovery software on hand for when a file or—God forbid—an entire disk partition eventually winds up disappearing without a trace. (And remember, it's not a question of "if," but "when.")
Unless an afflicted drive craps out entirely—in which case your only hope will be paying for costly recovery services like DriveSavers—all you need is the right software tool for the job and you'll be back in business in no time.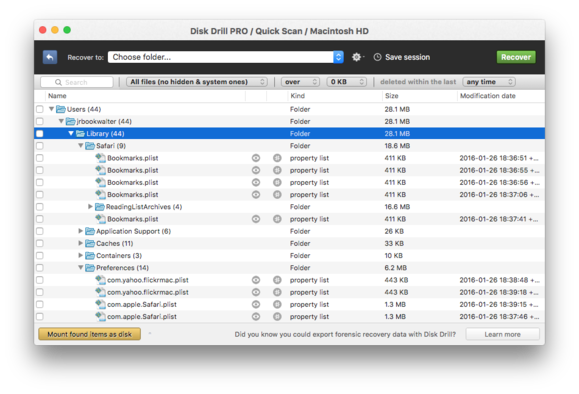 Disk Drill Pro's Deep Scan mode tunnels through your volume in search of files that are capable of being recovered.
To serve and recover
Disk Drill Pro 2 is one such Mac utility for scanning, recovering, restoring, and protecting OS X files and volume partitions. Also available in free Basic and commercial Enterprise editions, the software provides comprehensive data recovery from any type of disk media, including USB flash drives and memory cards.
While the Basic edition provides continuous protection with core features such as Recovery Vault and Guaranteed Recovery along with the ability to back up failing volumes to a disk image backup (DMG) stored on an external drive, the Pro version adds a few more robust options. A single-user license works on up to three Macs, with lifetime upgrades available for an additional $29.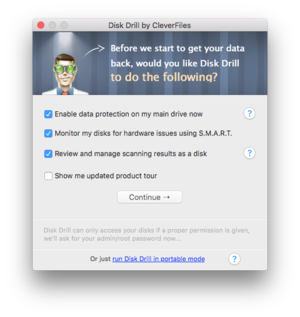 At first launch, Disk Drill walks users through an extensive tutorial, along with setting up a few options to help future data recovery.
In addition to the Quick Scan that skims through deleted files within seconds on even the largest volumes, Disk Drill Pro also offers Deep Scan, a process that takes significantly longer but has far better odds of rooting out lost media. I tested the latter option on my 15-inch MacBook Pro with Retina Display's 500GB internal SSD which clocked in around eight minutes, and did indeed turn up a respectable number of additional photos, documents, and other files that Quick Scan could not.
Once a scan has completed, users preview a file's contents using the Quick Look or view in hexadecimal format to assure it's complete prior to recovery. Returning one or more files and folders from the grave is as easy as making a selection and clicking the green Recover button in the upper right corner. The Pro version can also mount found items as a new disk, but this feature requires the aging (and occasionally buggy) Fuse for OS X to be installed.