Disconnect between CIOs and LOB managers weakens data quality
Despite the promise of big data, most analytics projects suffer from bad data syndrome, the result of tension between CIOs and line of business managers.
Part of the problem is the disconnect between the IT leaders responsible for the data and the business line managers who are accountable for the data, says Dan Ortega, vice president of marketing for Blazent, whose software companies such as Visa, Kaiser Permanente and CSC deploy to improve data quality. "There's no systematic alignment between the line of business needing technology to be more effective for their jobs and the IT people getting ahead of the curve rather than keeping the lights on or reacting to problems," Ortega says.
CDOs to the rescue
Blazent CEO Gary Oliver says a CDO could help close the gap between what the business requires and what IT produces, forcing companies to clean up data and procure additional data sources. He says CIOs are often busy "keeping the wheels on" IT systems and don't have the time to ensure that their teams give the business pristine data.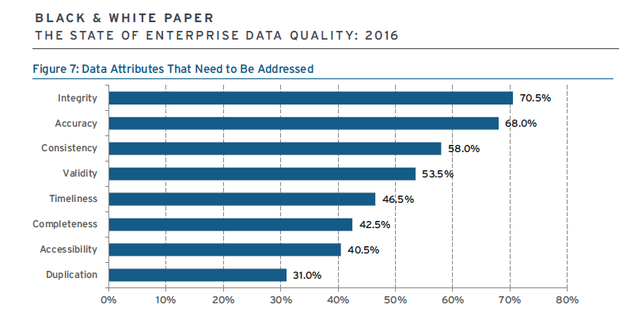 What data attributes most need improvement. (Click for larger image.)
"CIOs are trying to run the current systems and infrastructure, making sure their cost-effective and responsive," Oliver says. "Chief data officers are really thinking about how to leverage all of the internal and external data to drive new business outcomes and opportunities."
Gartner analyst Mario Faria agrees, noting in January researchthat companies are scrambling to drive competitive advantages and improved efficiency through better use of information. "Business leaders are starting to grasp the huge potential of digital business, and demanding a better return on their organizations' information assets and use of analytics," Faria says. "It's a logical step to create an executive position — the CDO — to handle the many opportunities and responsibilities that arise from industrial-scale collection and harnessing of data."
Although many banks and other financial services firms employ CDOs, the position is still new, with only 1,000 CDOs in large enterprises, Faria says. However, in an acknowledgment that businesses need an executive to manage enterprise information systems, he says that 90 percent of companies will have a CDO by the end of 2019. "They will have the difficult task of creating an information strategy with relevant metrics that tie the activities of their team to measurable business outcomes," Faria says.