Deus Ex: Mankind Divided review impressions: Human Evolution
Deus Ex IV: A New Machina
Let's be clear: This is not our final verdict on Deus Ex: Mankind Divided ($60 preorder on Amazon or Steam). I'm hoping to have a full review in time for the game's release next Tuesday, but there are a few reasons why we're only doling out basic impressions today.
First and foremost: I'm not done with the game. We only received PC code on Tuesday, and while I've put 20+ hours into the game since then I estimate I'm only about halfway through the main story. Blame my habit of stopping to hack every single computer I see.
More worrisome is the fact that we've experienced some fairly major—though not show-stopping—technical problems with the game as it stands.
Both my colleague Brad Chacos and I have spent time with the game the last few days and performance is nowhere near what I'd expect. I'm running the game on a GeForce GTX 980 Ti, Brad on an overclocked EVGA GTX 1080 FTW. My PC fluctuates between 30 to 50 frames per second at 1080p resolution on a mix of High/Very High settings (not even Ultra) depending on whether I'm indoors or outdoors. Brad says the GTX 1080 hits a steady 60 at 1080p, but the in-game benchmark only reached 46 frames per second at 1440p. To quote his email: "That ain't right. I'd expect that at 4K." Add to that frequent crashes at startup on Brad's end and well...
Bottom line: It's not quite the performance we'd expect, considering how the game looks. Which is to say, it's pretty, but I've seen better-looking games. Maybe Square has a Day One patch planned. Maybe the fault lies with drivers—though we're running the latest Nvidia drivers, which say they're Game Ready for the game. Regardless, we'll be keeping an eye on it as we get closer to next week's launch.
Aaaanyway
Okay, so let's talk about the game, shall we? A summary, for those who don't want even the merest whiff of spoilers: It's a lot like Deus Ex: Human Revolution. Like, if you showed me game footage from Mankind Divided next to footage of Human Revolution, I'd have a hard time discerning the two.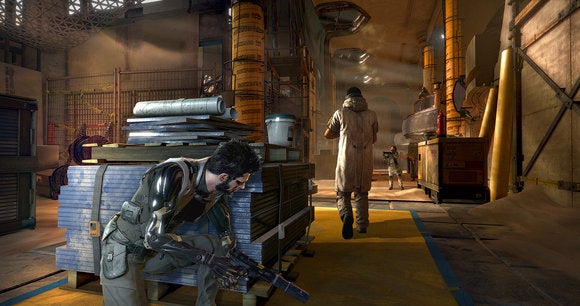 Also worth noting: Square prohibits us from using any of our own screenshots until launch day. All screens in this article are publisher-provided.
That's not a bad thing, by any means. In fact, it's a bit of a relief after the trainwreck of marketing that preceded Mankind Divided—the bombastic and action-packed reveal trailer, the use of terms like "mechanical apartheid" and "Augs lives matter." I think there was cause for concern.