Deus Ex Go turns the stealthy shooter into a sharp mobile puzzler
Square Enix's third Go game follows the strong blueprint of Lara Croft and Hitman.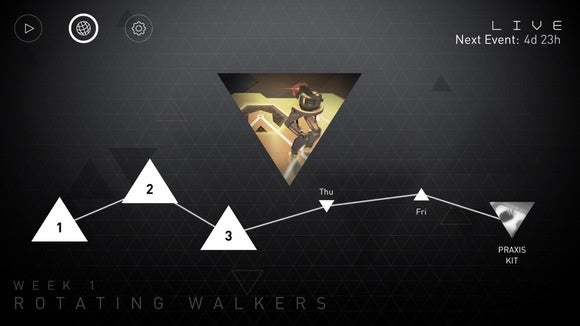 Complete all the new stages each week and you can unlock a power-up for use in Deus Ex: Mankind Divided.
That's not all, either. Square Enix will also introduce a level editor tool in a post-release update, allowing players to create their own missions and share them freely through the game. Giroux says it'll give players the same tools that they use in the studio, which should not only empower fans' creativity but also provide an ample supply of new challenges to endure.
Go get it
Based on my own time with the game, it's hard to find much flaw with Deus Ex Go. It smartly adapts the Deus Ex universe into a tactical touch puzzler, and the missions are challenging and brainy—maybe even more so than in previous Go games. While 2013's Deus Ex: The Fall did a solid enough job of adapting the shooter template for mobile, Deus Ex Go really feels like it was built from the ground up—not only for mobile controls, but also compact play sessions.
It also looks fantastic, shrinking the big-budget console and PC aesthetic into a top-down view suited for mobile phones—although it has made my iPhone 6s Plus become very warm very quickly and bleeds the battery in a hurry. (I'm running the iOS 10 public beta, however, which could very well be a factor, although the actual game performance has been flawless.)
And unlike the previous adaptations, Deus Ex Go actually has bits of storyline to help propel the campaign mode forward and anchor the game in that universe. Luckily, you don't have to be a fan of the series to appreciate Deus Ex Go, as the game is plenty engaging on its own. We may not see a Mac release of Mankind Divided immediately (nothing has been announced), but Deus Ex Go hardly feels like a consolation prize for Apple fans.
Previous Page 1 2 3