Deus Ex Go turns the stealthy shooter into a sharp mobile puzzler
Square Enix's third Go game follows the strong blueprint of Lara Croft and Hitman.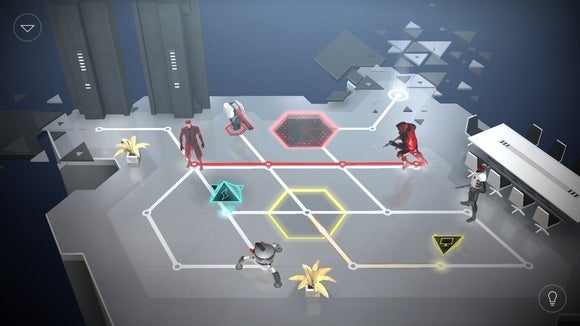 Multiple enemies, robots, and things to hack: the puzzles only get more complex as the game goes on.
"When we adapt a franchise like Deus Ex for mobile, we focus on how it feels to play them and high-level concepts, rather than the details of mechanics and how they work. This leads us to create a game tailor-made for mobile, while keeping the soul of the franchise intact," says Giroux. "In Deus Ex, Jensen outsmarts and fights his enemies, and hacks into security, but he also discovers conspiracies and follows its trail for the truth. These are the pillars we focused on for Deus Ex Go."
Ex-tra elements
If anything, Deus Ex seemed even more ready-made for a Go adaptation than its predecessors—so unsurprisingly, it works incredibly well in practice. Like Hitman Go and Lara Croft Go, the primary focus is on navigating each environment safely from start to finish, which means either getting around or disabling foes while solving puzzles and logic conundrums that impede your path to victory.
But Deus Ex also uses its hacking element to get even more of out of each stage, as you'll often need to reconfigure your surroundings via terminals to proceed ahead. That might mean hacking a turret drone to shoot guards instead of intruders (that's you), or activating and deactivating floor panels to create pathways—or stun guards unlucky enough to be in the wrong place at the wrong time. Like the earlier Go games, the turn-based approach means that when you move, the enemies have a chance to do the same. With hacking added into the mix, now you've got multiple layers of timing and tactical management to sort out.
Hacking is easy to perform, but figuring out the where and especially when is the tricky part.
"We were looking for something unique and mobile-friendly that would also enable us to create clever puzzles. Tracing lines and connecting puzzle elements is a very familiar input for any mobile player," says Giroux. "Reimagining the hacking in that way led to layering two different puzzles in the same level. The puzzle area is the layout for hacking and it adds a positioning element to hacking that interacts neatly with the rest of the game's mechanics."
Fans will hopefully be happy to hear that there's a lot more Deus Ex Go coming, too, and at a steadier clip. Rather than unleash level packs via occasional app updates, the game will feature a new puzzle every weekday. That's right: Monday through Friday, Deus Ex Go will have a fresh daily puzzle to play, and they'll get more and more difficult throughout the week. When Monday rolls back around, the set will refresh and new challenges will begin arriving.