Delphi, Mobileye partner to bring self-driving system to market by 2019
The companies' module will enable automakers to accelerate the pace of self-driving technology to market
Auto technology suppliers Delphi Automotive and Mobileye today announced a partnership to co-develop what they described as the market's first turnkey fully autonomous driving system for automakers.
The announcement comes just one week after Ford revealed that it will produce a fleet of self-driving vehicles without steering wheels or brake and gas pedals for ride-sharing and hailing services.
Unlike, Ford's autonomous vision, Delphi and Mobileye plan to produce a self-driving module that automakers can quickly integrate into their production vehicles. The module will include a steering wheel and pedals, allowing drivers to retake control of the vehicle if necessary.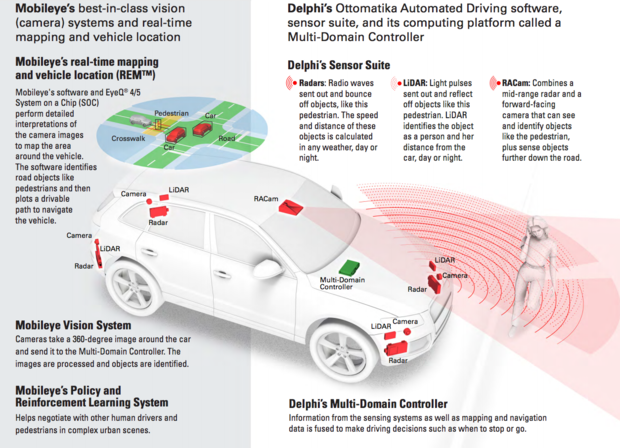 The companies plan to demonstrate their "Central Sensing Localization and Planning" (CSLP) platform for self-driving cars in urban and highway driving conditions during the 2017 Consumer Electronics Show in January in Las Vegas. They plan to start production in 2019.
Delphi, which supplies the auto industry with more than $17 billion in parts and services every year, and Mobileye, a supplier of real-time mapping systems, said their system will meet the top two tiers of automation - levels four and five -- according to the Society of Automotive Engineers (SAE) International, a U.S.-based industry standards organization.
SAE has established six autonomous driving categories where Level 0 represents no automation and Level 5 is a fully autonomous vehicle that controls all aspects of driving previously performed by humans.

SAE International and J3016
It is SAE Level 3 that has become a sticky wicket for the auto industry, including Ford. Labeled by SAE as "conditional automation," Level 3 allows all aspects of dynamic driving, such as automated turning, lane keeping and adaptive cruise control, but it has the expectation the driver will re-take control of the vehicle if prompted to do so by the advanced driver assistance system (ADAS).
Delphi and Mobileye said their CSLP product will accelerate the time to market for a complete automated driving technology.
"The Mobileye and Delphi relationship started in 2002 with the implementation of what was one of the most advanced active safety systems of the time. Our long history together is key to the success of this ambitious endeavor," said Amnon Shashua, Mobileye chairman and chief technology officer. "Our partnership with Delphi will accelerate the time to market and enable customers to adopt Level 4/5 automation without the need for huge capital investments, thereby creating a formidable advantage for them."


Delphi, Mobileye
Delphi's and Mobileye's "Central Sensing Localization and Planning" platform will be based on Delphi's multi-domain controller.