Deep Dream: Artificial intelligence meets hallucinations
Neural networks can not only identify images, they can be used to generate images Hieronymus Bosch would have been proud of.
Deep Dream has also been used to morph videos; here's a clip from the movie "Fear & Loathing in Las Vegas" that's been processed and it is, quite obviously, really disturbing: https://youtu.be/oyxSerkkP4o (direct link to video).
The problem with most on-line Deep Dream implementations is that you might have to wait for hours for your image to be processed (which is the case with Psychic VR Lab) and there's not a lot of control over the parameters of the transmogrification (as with Google's Deep Dream Generator). So, if you'd like greater control and faster processing (your gear withstanding) you can either run up the source code (not trivial) or use one of the first commercial offerings; Realmac's Deep Dreamer.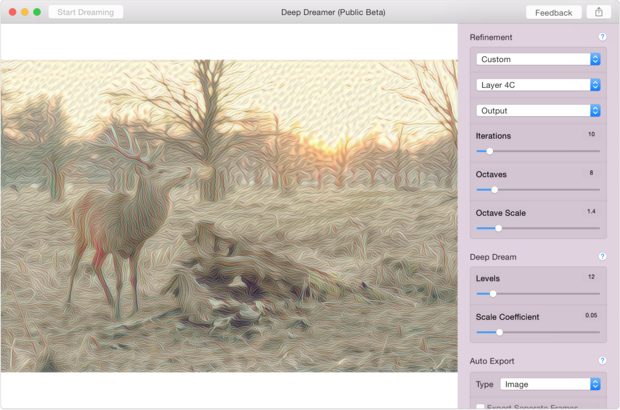 Realmac
Currently in beta for OS X Yosemite and above, Deep Dreamer provides more control over how the ANN processes an image than most of the online services I've tried and not only handles static images but also creates Deep Dream videos! For $14.95 this is a cheap way to explore the world of Deep Dreaming. Highly recommended.