Cortana takes the spotlight as Microsoft updates Windows, Windows Phone, Office
Microsoft opens its Build 2014 conference by announcing everything from a rebirth of the Windows Start menu to universal apps.
Myerson also re-announced the second version of Kinect for Windows, which uses the sensor in the Xbox One. "We think this is the future," he said. The Xbox, Windows, and now Windows Phone will also gain access to DirectX, Myerson added, allowing Xbox games like Forza Motorsport to run on the PC.
Microsoft has ported Windows to ARM, but Myerson also showed off Intel's embedded Quark chip, and then built—of all things—a Big-style piano. "What sort of things are possible when the PC is the size of an eraser?" Myerson wondered.
"What's so great about the Internet of things is not that they're a thing, but that they're connected to the Internet," Myerson said, which means that they can tie into services like Microsoft's Azure.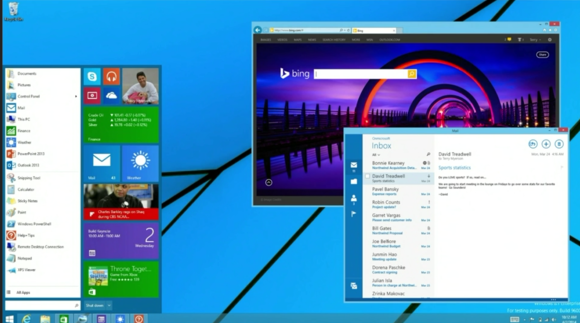 And now, what we've all been waiting for: A new Start menu, a lot like the old one. Close enough for rock and roll, anyway.
And finally? A new Start menu. Or the old one. Well, it looks a lot like the Windows 8 Start page, tacked onto the Windows 7 menu. Unfortunately, executives simply flashed it onscreen briefly, and that was all. There's no word on when it will arrive, but it will be a free update to Windows 8.
Speaking of free, Microsoft also said that it would begin making Windows free for embedded devices, as well as tablets under nine inches—the first shots in a possible price war with Android competitors.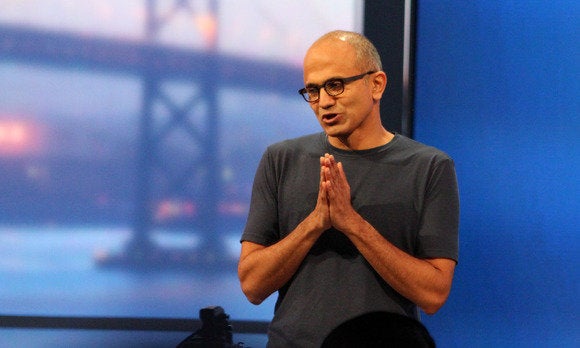 IMAGE: JON PHILLIPS, Microsoft CEO Satya Nadella: "We're going to innovate with a challenging mindset, not as a incumbent of Windows."
To close—after three hours—CEO Nadella appeared to reiterate the mantra of his short tenure. "Our vision simply put, is to thrive in this world of mobile first cloud first," he said.
Nadella closed by taking preselected video questions from developers. When asked why developers should build for Windows, Nadella was ready: "You want to build for Windows because we're going to innovate with a challenging mindset, not as a incumbent of Windows," Nadella said. Microsoft will innovate in new dimensions of products, at a "rapid pace," he added.
Previous Page 1 2 3 4 5