Cortana takes the spotlight as Microsoft updates Windows, Windows Phone, Office
Microsoft opens its Build 2014 conference by announcing everything from a rebirth of the Windows Start menu to universal apps.
Developers, developers, developers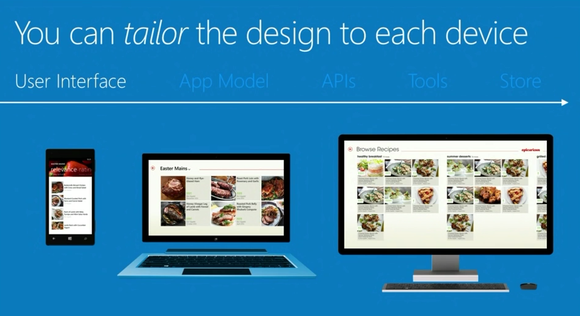 Universal apps will be easily portable among devices
David Treadwell, corporate vice president of the Operating System Group, appeared on stage to court the real audience of Build: developers, who have been tempted by newer operating systems like iOS and Android.
And he did so, with what he calls "universal Windows apps," bringing the Windows runtime to Windows Phones. That will allow common code to run on both platforms, Treadwell said. Microsoft streamlined every phase of the developer cycle, from design to debug. Developers want to adapt the design across various screen sizes, he said.
Directions on Microsoft's Miller said that more work would need to be done. "As we've talked before, it's all about simplicity," he said. "The devil's in the details."
More functions will be shared across platforms, and the way in which certain operations are handled, such as suspend and shutdown, will be shared. Data types, notifications, and others will also be shared, with support, naturally, from Visual Studio. An update from Visual Studio 2013, available today, will allow this, Treadwell said. It will include a Windows Phone simulator and new debugging tools.
Within the Windows Store, users will now buy an app, once, for both Windows Phone and Windows PCs. A universal app icon will make clear that the experience will be the same across a phone and PC: "Made for Windows Phones, and Windows PCs." And approval will be up to 50 times faster, Treadwell said.
Touch-first Office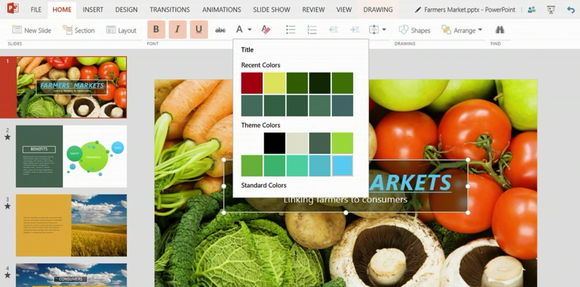 Kirk Koeningsbauer, corporate vice president of Microsoft Office, showed off a new, early version of a touch-based Microsoft Office, which looks a lot like Microsoft's recently-launched Office for iPad.
"As we built these new applications as customers moved from Win32 [older versions of Office] to the modern versions of Office," Koeningsbauer said. The idea, he said, was to eliminate any learning curve, and let existing Office documents work seamlessly on the new Office experience. Documents are automatically saved to OneDrive.
Documents will look the same on both a phone, tablet, or PC, providing a sense of "universal Windows," Koeningsbauer said.
Tantalizing glimpses of the future
Terry Myerson, the executive vice president of Microsoft's Operating Systems Group, also began showing off some of the technology the company has waiting in the wings.
Bringing apps to the PC and the tablet is one thing, but one screen is still being ignored: the Xbox, currently being used on 80 million screens around the world, Myerson said. The average Xbox user is on it 5 hours per day, he said. Universal apps will eventually run on the Xbox, Myerson said.
Previous Page 1 2 3 4 5 Next Page