Cortana takes the spotlight as Microsoft updates Windows, Windows Phone, Office
Microsoft opens its Build 2014 conference by announcing everything from a rebirth of the Windows Start menu to universal apps.
The Windows Phone store has also been improved, Belfiore said. The Calendar will sport an improved weekly view. Microsoft also added a new Sense application to the existing Storage Sense, Battery Sense, and Data Sense apps. Wi-Fi Sense learns about Wi-Fi networks and will suggest and connect to free Wi-Fi hotspots—even auto-confirming a terms-of-service and plugging in email information, if the user allows it. Users can even let Windows Phone beam the SSID and password from a home network to a visitor's Windows Phone upon the guest's arrival.
Uses can also "elevate" from an ordinary phone call to Skype on ordinary phone calls, Belfiore said.
Microsoft enhanced the Windows Phone keyboard, including the addition of "shape writing," or the Microsoft version of Swype. Belfiore claimed the new keyboard surpassed the previous record for typing on a smartphone, beating the Samsung Galaxy S4.
Finally, Microsoft added Internet Explorer 11 to Windows Phone, including the new Reading Mode and InPrivate browsing. That Web platform will enable a number of new capabilities that straddle the phone, tablet, and PC. "We're taking the world's best smartphone experience and making it better," Belfiore said.
The new Windows Phone update will roll out to consumers in the next few months, Belfiore said. It will be preinstalled on new phones in April and May. The first phones to get it will be the Nokia Lumia 630 and 635, Nokia's Elop said. Those phones are geared for the international market, aggressively priced at $159 for a single-SIM option and up to $189 for a dual-core option. Elop also announced the Lumia 930, the international version of Nokia's Lumia Icon. It "just rocks," Elop said, and it debuts in Europe this June.
Windows 8.1 Update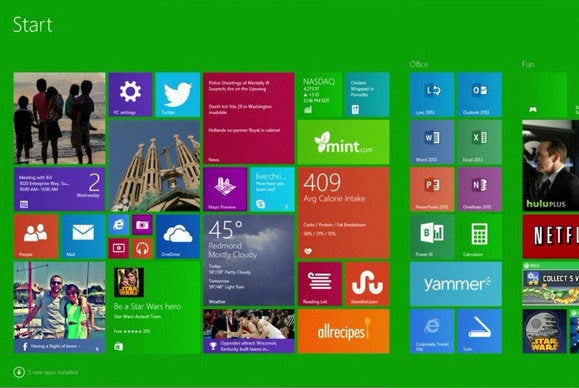 Belfiore also made the Windows 8.1 Update official, although it had leaked to developers in early March. (See our slideshow of the new features, and our hands-on of the new Windows 8.1 Update as well.) The improvements are designed to enhance the experience of mouse and keyboard users, he said.
Metro apps can now be docked on the taskbar, and those apps now have a title bar than can be accessed when users swipe upward. The Windows Store app will be automatically docked. On the Start page, you'll now find handy search and power icons. Right-click options will be available for Live tiles, giving them some of the power of desktop apps. New apps are highlighted and can be pinned either to the Start page or the taskbar.
The update will be available on April 8, Belfiore said, via online update rather than through the Windows Store. Developers can get it today, via MSDN.
Previous Page 1 2 3 4 5 Next Page