Cortana takes the spotlight as Microsoft updates Windows, Windows Phone, Office
Microsoft opens its Build 2014 conference by announcing everything from a rebirth of the Windows Start menu to universal apps.
Belfiore also showed how Cortana could pull data from Yelp reviews and answer sports scores and facts, such as the age of Seattle Seahawks quarterback Russell Wilson, as well as health-related questions, such as the calories in a banana. But the beta Cortana also failed to call a restaurant and stumbled on the score of a recent Seattle Mariners baseball game.
"Cortana is the first truly personal digital assistant, talking about the things that matter most," Belfiore said. Users can speak naturally to Cortana, rather than using the pre-defined phrase list in Windows Phone 8. David Treadwell, corporate vice president of the Operating System Group, demonstrated using Cortana to author a Twitter tweet—although Cortana stumbled on the hashtag.
Like Siri, Cortana showed a little personality in her interactions. At heart, however, she's practical. Search of local content is supported, as is dictation. Cortana can also trigger Skype calls and add shows to a Hulu queue.
Cortana's reminder skills are also impressive. Belfiore asked Cortana to remind him, the next time he spoke to his sister, to talk about her new puppy. This higher level of contextual awareness is something Google Now lacks.
Windows Phone 8.1 will also be more personal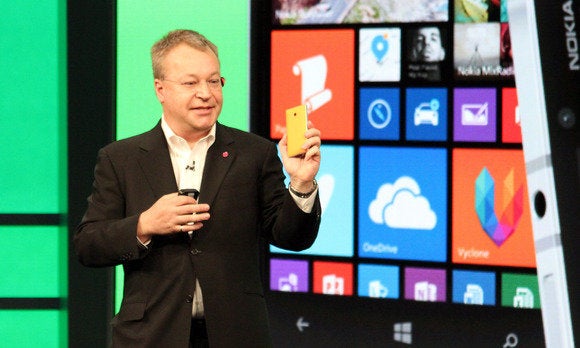 The female-voiced Cortana is the lead actress in Microsoft's push to make Windows Phone indispensable to its users, but there are other players.
One of the highlights is a new Action Center, which reproduces the notifications of iOS and Google. The Action Center allows developers to add new configurable notifications, and can tell the phone to ring or vibrate.
The lock screen has also been improved. In Windows Phone 8, there was a API for an application to set an image in the lock screen. In Windows Phone 8.1, the app can take control of the lock screen. In one demonstration, messages posted to the lock screen disappeared on the diagonal, or rotated away. Users also have the ability to pick their own background image.
"All this is about to make Windows Phone more personal and make the user experience even more personal," Belfiore said.
Stephen Elop, formerly the chief executive of Nokia (and future head of an expanded Devices group after Microsoft acquires Nokia), appeared on stage to tell developers that Windows Phone 8.1 will be rolled out to all Lumia devices this summer.
Nick Hedderman, a senior product manager of Windows, showed off some new business features coming to Windows Phone 8.1, including a new business VPN that connects automatically, and S-MIME support, which allows users to send, sign and read encrypted email on their phone. But it won't allow you to save business content on the device, or straddle the business and personal space. A corporate relationship with its policies can be added or subtracted to the phone, but it can't be run in conjunction with a personal environment.
Previous Page 1 2 3 4 5 Next Page