Comcast adds fantasy stats and eye candy to its Xfinity X1 sports app
More statistics are available for individual players and teams, just in time for the start of the NFL season and MLB playoffs.
There's definitely other room for improvement, as many of the stats, such as drive summaries, would tell the narrative of the game even better if you could expand on them and get more specific information.
Comcast's Silicon Valley Innovation Center's Executive Director of Product Management Preston Smalley said the plan is to collect usage data in order to determine which portions of the interface viewers use most. These will then be targeted for future updates.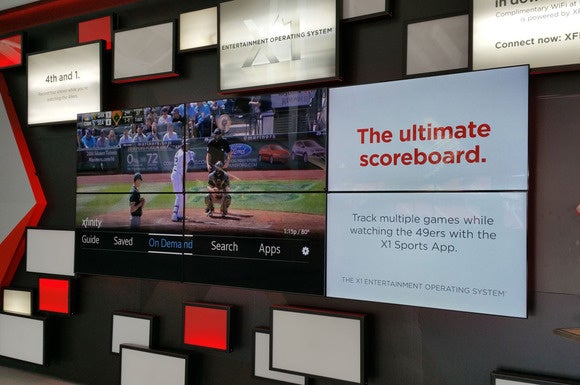 The new features are available now to Comcast Xfinity X1 subscribers. Credit: Derek Walter
Press a dedicated button on the remote to launch the app, then you can cycle through different leagues and games. If you have the MLB Extra Innings package, which serves up every game, you can switch over to watch another game from this interface.
The new sports app is live for those who subscribe to one of Comcast's X1 packages. More features are rolling out as the NFL and NCAA Football seasons start up this fall, Smalley said. Also, live scores are coming for the top soccer leagues in Spain and Mexico. The interactive scores are already here for the English Premier League and Major League Soccer.