Collaborate in real time with cross-platform mindmapper Coggle
Free webapp Coggle lets you quickly create simple mind maps, either on your own or with a distributed team.
This is nice, but can feel disorienting at times because you can't see your collaborators mouse cursors, so there's no visual indication of what's about to happen. Instead, nodes seem to change colors and jump around all over the screen, which can be confusing when working with several collaborators and a large mind map.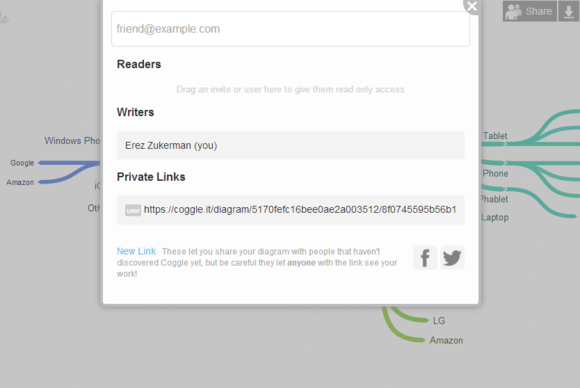 Sharing your mind map is easy, either publicly (for viewing) or with named collaborators (for editing).
Coggle's simple appearance belies considerable depth. It is one of those cases where the lack of a visible UI means you'll have to dig deeper and work harder to figure things out initially. Once you do get the hang of it, it's a pleasant and simple way to create mind maps. If you need real-time collaboration, try it out. Otherwise, MindMup might prove simpler to master.