Coders and librarians team up to save scientific data
Volunteers rush to archive data before it disappears from government websites

Credit: A data rescue event in Dover, N.H./Photo by Sharon Gaudin
On a windy, snowy night in Dover, N.H., about 15 people gathered in an old converted mill, staring at computer screens and furiously tapping at their keyboards.
The group – some students, some programmers, and at least one part-time dishwasher and data entry clerk – were braving the snowstorm and volunteering their time to try to keep scientific data from being lost.
It was one of dozens of data rescue events spread out in cities from Toronto to Los Angeles, and Houston to Chicago. These events, many on university campuses, have been going on since December, bringing together software programmers, librarians and other volunteers who are trying to safely archive scientific data from government websites.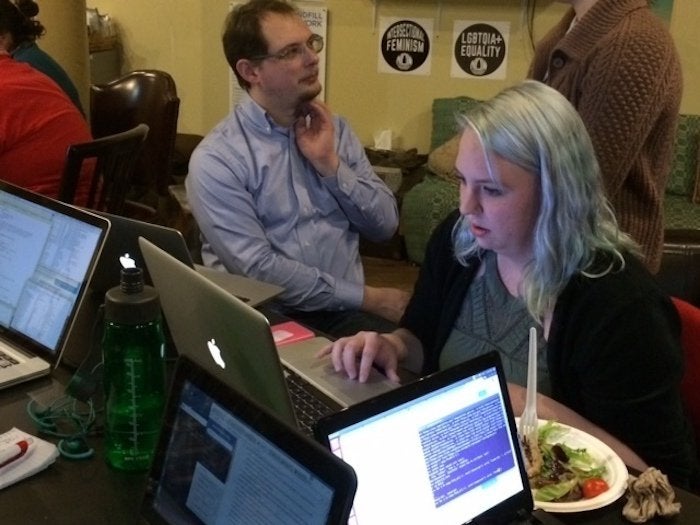 Lauren Moore, a front-end web developer and digital marketing manager, had to learn back-end coding skills to help with the DataRefuge effort. "It's kind of overwhelming, but I'm getting the hang of it," she said. Credit: Sharon Gaudin
"There's loss of data with any administration," said Daniel Pontoh, a data entry clerk, dish washer and a student at Great Bay Community College in Portsmouth, N.H. "We just know how fast that loss of data could happen with this administration."
There is more concern since President Donald Trump took office. His administration has stated that it doubts the reality of climate change and has proposed deep cuts to the budget of the Environmental Protection Agency and the nation's top weather and climate agency, the National Oceanic and Atmospheric Administration (NOAA).
Scientists fear losing critical studies and long-term research in such wide-ranging areas as ocean temperature change, greenhouse gas emissions, changes in polar ice caps, gun violence and animal treatment in research facilities.
References to climate change were removed from the Whitehouse.gov website on Inauguration Day. And the Trump administration reportedly told the EPA to remove online educational resources and links to climate-change data.
Some fear the data will be intentionally lost or altered. Others want to make sure the data is available in more than one location, especially more than one government website, since budget cuts could mean server space and upkeep of these data sets might no longer be a priority.
"We're most concerned that data might be taken offline and public accessibility will be gone and it'll only be available as [Freedom of Information Act] requests," said Margaret Janz, a data curation librarian at the University of Pennsylvania. "Our goal is to make trustworthy copies of data so it will be available to the public and suitable for research. ... This data should never have been in just one place."