CloudOn's virtual Office moves from the app to the browser
CloudOn, which provides a virtual copy of Microsoft Office, now offers a cloud-based version of its software, along with new sharing options for users of third-party cloud storage options.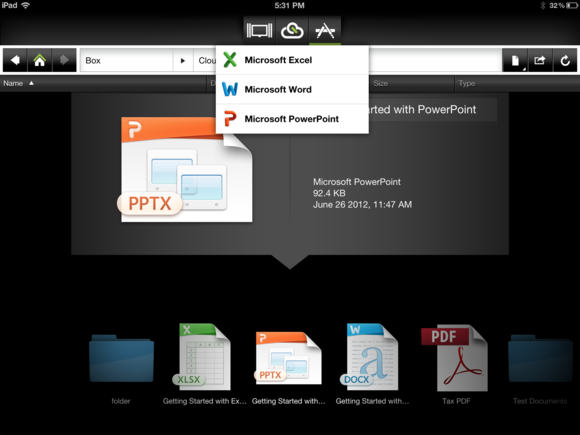 CloudOn, whose apps for iOS and Android devices provide Microsoft Office where Microsoft doesn't, is breaking into the browser.
CloudOn said Tuesday that its virtualized copy of Microsoft Office 2010 will now run inside Google Chrome and Apple's Safari browser as a Web app, with support for Mozilla Firefox and Microsoft's Internet Explorer coming in a future release. It also will beef up its sharing capabilities, launching the app environment if a user shares a document through the service.
CloudOn's premise is simple: Users have been able to create, edit, and share Microsoft Excel, Word, and PowerPoint files for the past year and a half. Until now, that's been restricted to apps for the iPad and iPhone, plus Android phones and tablets. While Microsoft has released Office Mobile for the iPhone as well as Android phones, the company has inexplicably ignored tablets--and tied Office Mobile to Office 365 subscriptions, to boot. That's left the door open for companies like CloudOn to exploit the vulnerability.
The problem that CloudOn has faced has been threefold. First, simply trying to create and edit rich documents within the relatively small confines of a smartphone screen has proven difficult, as a PCWorld assessment demonstrated. Second, some of its app users have complained of an odd bug where CloudOn would consistently drop the first letter of words (which others noted may have been tied to another app, SwiftKey). And finally, others have complained that the CloudOn apps are simply slow and laggy, even on robust mobile smartphones.
With the new version, Milind Gadekar, the chief executive of CloudOn, hopes he can solve most, if not all, of the issues. "It will be definitely, in our belief, a better experience; a slightly different experience than the native [app] experience," Gadekar said.
Part of that, of course, comes from the fact that CloudOn will now display Office within the airy confines of a desktop browser, using what Gadekar said was a combination of HTML and Javascript, as well as its own app delivery mechanism. Users can view documents as they wish, but editing them requires users to sign up for a free CloudOn subscription.
CloudOn 4.0 allowed users to share and edit documents from Box, Dropbox, Google Drive, and SkyDrive. The browser-based version eliminates the need to email documents as attachments back and forth, said Gadekar. Instead, users will be provided a link, so that they can access the document no matter which cloud provider they use, and allow them to collaborate on documents.
At this point, customers have numerous options for productivity software: native Windows software like Office; open-source alternatives like LibreOffice; browser-based options like Google Docs, CloudOn, and others; plus mobile apps like Microsoft's Office Mobile and the Apple iWork suite for its iOS devices.