Citrix ShareFile review: Enterprise-quality file storage and synchronization
Citrix ShareFile is the first I've used that feels as if you're working in a true client/server environment.
Citrix ShareFile's user management features are good and definitely versatile, but there is no way to create groups, put users into those groups, and then provide access to folders based on those groups. So, as your company grows, you may find that management of users becomes cumbersome. What you can create is something called Group Distribution Lists, which are used to notify or include users when when files are added to the system.
In addition to employees, you can also create Client users, which are users who are not employees but who you want to have access to specific folders so they can collaborate with you. Client users have limited, specific access to folders and have no personal ShareFile storage space, but they don't use up any employee licenses. Used wisely, ShareFile clients can work as an excellent file collaboration tool with certain employees, non-employees, and consultants. Citrix ShareFile also offers a features called RightSignature that lets you securely send documents stored in ShareFile to anyone on any device so the document can be signed and returned digitally.
There are several options for connecting to your ShareFile account. Citrix offers apps for iOS, Android, Mac OS, and Windows. As mentioned earlier, you can create folders and add files using your web browser, and you can connect to FTP and WebDAV (https) file shares using the Go > Connect to Server menu in the Finder. Citrix ShareFile also offers a feature that allows users to check files out while they edit them, making it so that no one else can edit the file while it's checked out. Information about which files are being accessed by what users using any of these sharing options can be downloaded and viewed using Citrix ShareFile's excellent reporting tools.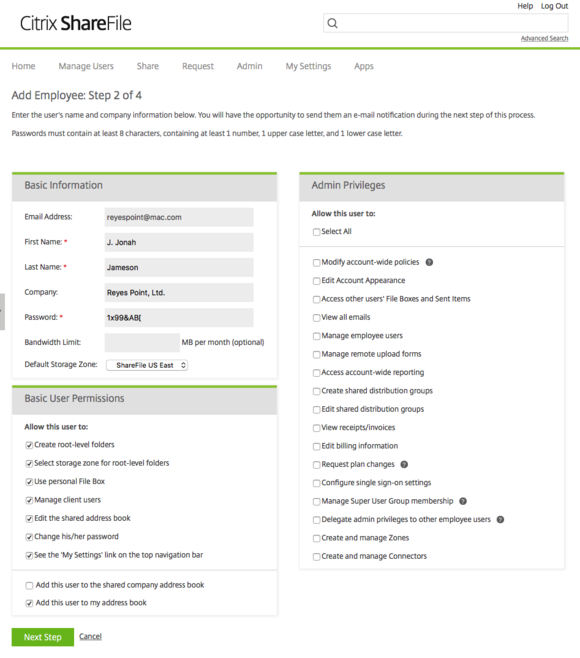 Citrix ShareFile offers excellent tools for creating users and managing their access to your data stored in ShareFile.
Bottom line
There is much to like about Citrix ShareFile. It's simple to set up and use, offers excellent user management tools, allows you to provide permanent or temporary access to folders or documents to users outside your business infrastructure, and offers many of the benefits of a client/server environment and file synchronization services without requiring that you maintain a server. What it lacks is good group management tools, which is the only thing that keeps Citrix ShareFile being a perfect tool for securely storing and sharing files.