CIOs should prepare for lack of Cobol (yes, Cobol) developers
Businesses are faced with a shortage of programmers with Cobol skills, but there is hope that a new generation of developers will emerge.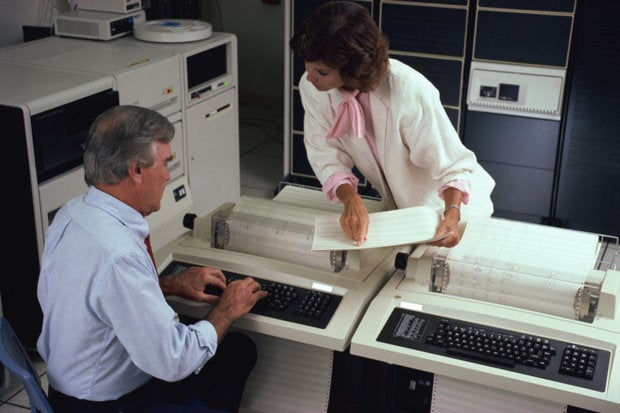 Credit: Thinkstock
In the fast-moving, ever-changing IT industry, businesses are always chasing the "Next Big Thing" - the latest programming languages, emerging technology and project methodology - as they try and gain a competitive edge. But there's a more pressing problem looming for many companies, especially in the finance, travel and government spaces: a shortage of Cobol developers.
You read that right. The demand for talent skilled in and experienced with Cobol has remained steady, even as the pool of talent with those skills shrinks, says Ed Airey, product marketing director at Micro Focus, a software and consultancy services firm that helps clients modernize legacy systems.
"One of the most significant challenges is changing people's perception of Cobol and other legacy skills," says Airey. "Generally, in IT, newer is better, but a lot of our clients have built their businesses on this technology, and it still holds value for them," he says.
Cobol Every Day
End-users interact with Cobol-based systems and solutions much more often that you might think, says Airey. Banking, insurance, and even air and rail travel solutions that are customer-facing are often Cobol-based, because the language excels at both exact computation and at handling large volumes of data efficiently, he says.
"Cobol was designed in the 1950s and 1960s as a business language and it does some things really well," says Airey. "It does computation and advanced arithmetic very well, up to 32 places on each side of a decimal point; that's important to large businesses for whom a simple rounding error could result in millions of dollars of loss," he says.
"Cobol's very good at processing large volumes of data, which is why it's used in industries that still perform batch processing," Airey says. "The Federal Reserve Bank, many credit card companies, the IRS; these large financial institutions often still rely on batch processing - where all transactions are processed after a short delay at one time - instead of implementing newer, real-time payment and accounting systems," he says.
In addition to these use cases, Cobol's used for security and screening purposes; to run background checks, for immigration and border protection and to process information against terrorist watch lists, for example, Airey says.
Aging Tech, Aging Workforce
But the problem is that, as these legacy technologies age, so does the workforce with the skills to manage and use them, and it's difficult to find new talent to take their places, says Airey.
"What we're seeing is a lot of the workforce is aging out. The average age of a Cobol programmer is close to 55-years-old, and the challenge is to find the next-generation talent to continue working on these technologies," Airey says.