CIOs combat messaging overload with mobile 'micro apps'
CIOs are addressing major pain points in corporate workflows by consolidating approval requests into lightweight 'micro apps.'
Thanks to cloud and mobile applications, companies have eliminated tedious paper shuffling but this has created a new problem -- application fatigue. Enterprise software is cramming email inboxes with messages prompting workers to manage expense reports, purchase orders and other business processes. The very software designed to enhance your productivity is taking more of your time than was originally intended.
The situation is especially challenging for managers who oversee hundreds or even thousands of workers. On a typical work day, VMware CIO Bask Iyer approves salary increases in Workday and IT requests in ServiceNow, signs off on procurement requests in Coupa and expenses in Concur. The demand on Iyer's attention makes him feel like a clerk and has him longing for the days of signing paper approvals by hand. "It's become so tedious that what we did 20 years ago was more efficient," Iyer tells CIO.com.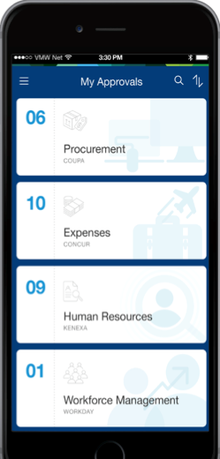 VMware's vApprove mobile application aggregates approvals from cloud services and internal back-end systems.
Indeed, compared to modern consumer applications that pepper you with push notifications, activity streams and bots, the pull-oriented form and function of enterprise software is archaic. To address the problem, Iyer asked his staff build vApprove, a mobile application that uses RESTful APIs to aggregate approvals from cloud services and internal back-end systems.
Each request includes the complete workflow of the request, including who else has signed off, comments, as well as receipts and the capability to access the app in which the business process was generated. If a manager has a question about a purchase order, she can do a screen grab of the document and text it to a procurement specialist.
Why 'micro apps' are a burgeoning market
VMware is hardly the first company to tackle inbox overload. Between 50 and 100 startups are consolidating messaging into lightweight apps as part of a nascent but growing market known as Rapid Mobile Application Development, or RMAD, says Gartner analyst Van Baker. "This is a common need in enterprises across all verticals," says Baker. "Vacation requests, expense reports, work orders and purchase order approvals are simple workflows that people want to be able to deal with in an efficient manner and get on with their day."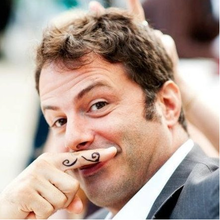 Sapho's Peter Yared.
Inbox overload proved vexing enough for CBS Interactive CIO Peter Yared that he left the media company in 2014 to launch Sapho. Yared notes that enterprise apps have traditionally been request-driven, with the employee providing information and the app conducting calculations to retrieve answers. It was not uncommon to juggle multiple apps that performed the same functions at CBS, Yared says. For example, an expense management app could require him to check for new expenses monthly, manually query the system, or sift through email notifications for approval requests.