Castro 2 review: Podcast app for iOS keeps episode volumes down to a dull roar
If you're looking to curate your podcasts instead of having a flood, Castro 2 has the right tools.
The remainder of the list lets you manage subscriptions. It shows every podcast to which you're subscribed or for which there's at least one episode in the queue. You can tap the podcast, and the main view shows all episodes in the feed, and has an Inbox (inbox icon) and Queue (play button icon) count as well if any episodes are in either view.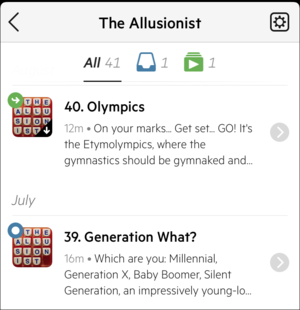 You can examine a podcast in the Archive view and see which episodes are queued or available.
Tap the gear at the upper right, and you can set default options for a subscription or subscribe if you only have individual episodes loaded. Here's where you can opt to queue (at top or bottom) any new episodes. You can also drop new episodes into the Archive, which may seem like a strange option at first glance, but makes sense if you don't want episodes to clutter up the Inbox but have ready access to them from a list.
A highly peculiar missing feature is app-wide keyword search. You can't find episodes by title, description, or any parameter, whether in a feed or downloaded. This would dramatically improve the utility of the Archive, among other things. It should be added in a future release.
Oddly, a deep search is available in the weak Discover view, the fourth main icon in the app, which is organized by categories. The search works across all feeds Supertop has retrieved via its servers, but requires an online connection. Discover lets you paste in a feed URL, but doens't have any other options to aid in recommendations or sharing.
Castro users can share individual episodes through a Share sheet available only when viewing show notes, and recipients without Castro can listen via a Web page interface. With Castro installed, opening the castro.fm URL used in sharing loads the episode into the app's Queue.
Like most third-party podcast apps, Castro can import and export a standard format list of subscriptions, and even has a specific option to import from Castro 1, Overcast, and the Apple app. The app also lets you set options for streaming and downloading over cellular, and has a night mode triggered by a two-finger swipe up or down.
A flat fee and a niche found
Castro is swimming against the tide of free apps, in-app upgrades, and free-with-patronage apps pursued by other podcast developers. Leading competitor Overcast 2 relies on voluntary contributions, which unlock a handful of modest features, and allow for recurring revenue, but all primary features are free. Castro costs $5, and there's no way to test it before use; the app's makers have posted videos and blog entries, and are relying in part on an existing audience and word of mouth.
Previous Page 1 2 3 4 5 Next Page