Castro 2 review: Podcast app for iOS keeps episode volumes down to a dull roar
If you're looking to curate your podcasts instead of having a flood, Castro 2 has the right tools.
Tapping play to start listening to an episode doesn't shift you into a play view. Instead, it pushes the episode into a now-playing strip at the bottom. Tap the upward-pointing triangle at its far left, and the strip expands to full screen. Castro treats playback like the iOS Control Center, showing a lot of fiddly bits: you can set a snooze duration, vary playback speed from 1x to 2x in 20 percent increments, and scrub through the episode's audio. It also has rewind and fast-forward buttons, which can be used in the bar and fullscreen mode. (You can change those durations in preferences.)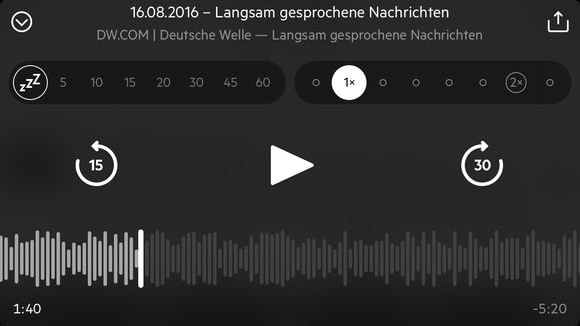 The playback view is a mix of immediately useful and less frequently needed features, and omits shownotes.
I'm not a big fan of how this is laid out, because it privileges less-common features alongside very common ones. Other apps combine some version of this view with cover art and show notes, which I consult often for details and to click links, and break out more global or more tweaky settings into a submenu or place them in preferences. Instead, Castro requires you tap the scrolling podcast name and title to see show notes, and then tap the now-playing bar's triangle to return to the play view.
The audio scrub feature shows a representation of the audio waveform, but only a portion of the episode appears, no matter how long the episode is. You can scrub through fine and coarse intervals, and I defy you to figure this out without reading Supertop's release notes. Drag the waveform, and you move by seconds; drag and accelerate the playhead at varying speeds to move across tens of seconds or minutes. While it's pretty and functional, it's too clever by half for my liking, and doesn't match the generic, familiar audio-scrub interface that's part of iOS.
Castro lacks the extra audio features found in Overcast 2: Smart Speed, which removes short and long silences, and Voice Boost, which equalizes and optimizes audio for iOS playback. I don't use the latter, although many people find it valuable; I do miss the former, which overcomes some of the issues with pauses that naturally occur in episodes taped live.
Turn the dial to the past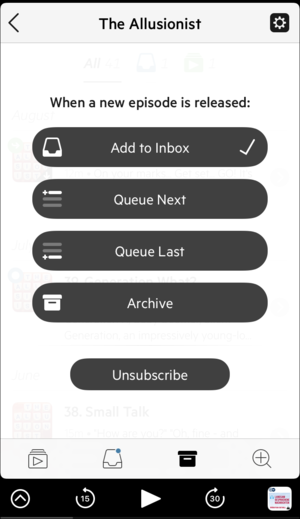 Subscriptions are managed via the Archive view, and new episodes can be noted for the Inbox or queued.
The Archive view provides an interesting complement to Inbox. It's where episodes you're done with in Queue and Inbox remain. At the top of the view, you can select Starred and see any episode you tagged, an easy way to find favorite episodes. The History list is also terrific: it's every episode you've listened to in the order you heard them starting with the most recent.
Previous Page 1 2 3 4 5 Next Page