Castro 2 review: Podcast app for iOS keeps episode volumes down to a dull roar
If you're looking to curate your podcasts instead of having a flood, Castro 2 has the right tools.
The app also lets you set an upper bound by capping the number of hours of podcasts in the queue at intervals from 10 to 160 hours. You can opt to set it to Unlimited, but that's contrary in many ways to the intention of the app. Castro doesn't require that you manage episode storage, using the Queue and hour total to handle that. You can disable downloads altogether and stream podcasts as well.
Castro offers a few ways to interact with the Queue. Tap a podcast episode anywhere in the app and, instead of that episode playing immediately, you're presented with a set of contextual options. If it bugs you as it does me, when I miss a tap target in some podcasts apps to get show notes and the episode starts playing instead, you'll prefer this method, too.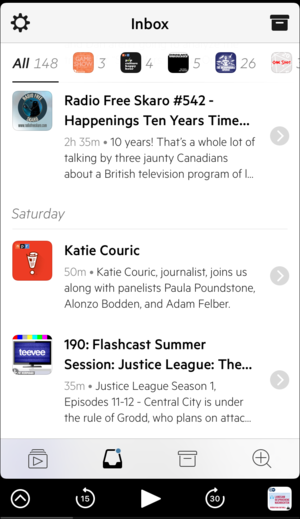 The Inbox contains recent episodes, but it's not a playlist; more like a set of suggestions.
In every view but Queue, you see four buttons: play, which also adds the episode to the top of the queue; an add to top of Queue button; an add to bottom of Queue button; and either an Archive button or a Star button. You can also tap a right-pointing triangle for show notes. Castro doesn't show per-episode "covert art," which is a shame.
In Queue view, you see just play, archive, and star. In the Queue, you can drag episodes around to change playback order. Playing any episode also moves it to the top of the queue. Tapping the Archive button in any view, even when you're viewing past episodes of a podcast in the Archive view, removes that episode of the podcast from the Queue and the Inbox. Tapping the Star adds it to a Starred list, which can be found at the top of Archives.
The Inbox has a nice way of swapping among podcasts. At the top, there's a label reading All with the currently total number of podcasts. To its right, in a swipeable list, are all the podcasts that have at least an episode in the Inbox with the total of each next to an icon. Tap any icon, and you can see just those episodes.
At any time, you can tap the Archive button in the upper-right corner of the Inbox, and it removes from the Queue and the Inbox all the episodes in the current view, whether All or for a particular podcast. For some frequently produced news podcasts I listen to, it's a great way to sweep out old episodes that I'll never tune in to.
An awkward arrangement of playback options
Previous Page 1 2 3 4 5 Next Page