Castro 2 review: Podcast app for iOS keeps episode volumes down to a dull roar
If you're looking to curate your podcasts instead of having a flood, Castro 2 has the right tools.
Competition spurs innovation, and the world of podcast apps for iOS has shown that in effect. Castro 2 ($5 in the iTunes Store) from Supertop diverges from other podcast apps, addressing the issue of managing a flood of podcast episodes and sharing episodes among other people.
The app requires a new way of thinking about podcast listening, and I wasn't quite sure how to use it at first. That's a one-time learning barrier, although Castro 2 could provide more handholding. While it offers tips that can be permanently dismissed, I couldn't sort out what some basic features actually did (notably archiving) without experimentation and jumping around in the app.
That aside, it's a strong new entry, worth the price even to test it out to see if it works for you. It may become my new default podcast app, though Castro has just a few rough edges I want to see sanded down.
Cue the queue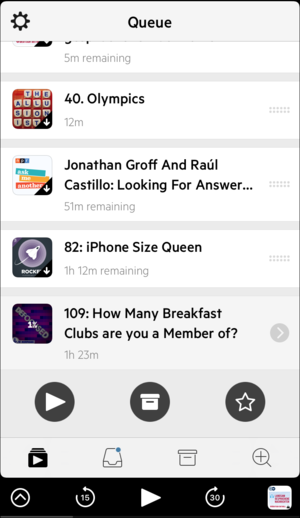 The Queue has episodes set to play, and you can re-order them or archive them.
Many podcast apps organize themselves around a master list of all episodes, ordered from newest at top, and also use that as the primary playlist to determine what episode to play after a current one is finished. Some let you set up custom or smart playlists that capture different interests, priorities, or shows. Overcast 2, for example, allows prioritizing certain podcasts so that they always float to the top of a playlist.
Castro downplays that in a sort of radical rethinking that has a lot of merit. The app organizes podcasts simply into three views: Queue, Inbox, and Archive. The Queue contains all episodes to which you've noted you want to listen; the Inbox shows a full list of all episodes from subscriptions along with a short text snippet (the one also used for iTunes episode taglines); and Archive offers access to the favorited and played episodes along with the back catalog of all podcasts in the queue or subscribed to.
This shifts the entire question of what to listen to next, as the Queue becomes a manageable master playlist. By uncoupling the full feed of all your subscriptions and any individual episodes you've added from the notion of a sequentially played list, Castro makes it easier to pick and choose.
I subscribe to many more podcasts than I can possibly consume, and even with playlist and "keep the last X" episode options, I still find it a pain to select just the subset I want. The Inbox/Queue combination feels like a more natural approach if you're subsampling subscriptions and want to occasionally achieve Podcast Inbox Zero. While Castro adds a step to play an episode, it also reduces the stress of overabundance.