Camera app makers tap into RAW power with iOS, and look forward to dual lenses
Developers behind several popular, well-reviewed iOS camera apps eagerly incorporate short-term photo enhancements and anticipate more to come.
iOS 10 finally turns the iPhone into a real camera. Before you get the pitchforks and torches out, let me explain: it's the first release that gives iPhone owners access to the same rich, deep information that standalone cameras have offered for years via unprocessed RAW images and, in some cases, wide-gamut color. Many photographers prefer to shoot in RAW and use editing programs like Lightroom to "develop" a photo with the white balance and exposure balance they prefer. And, seemingly uniquely in iOS, Apple only allows effective access to its image sensor data through third-party camera apps—it's like throwing RAW meat (sorry) to app developers.
Broadly speaking, capturing RAW data and retaining and displaying wide-color gamut image data for in-phone editing expands an iPhone (and the 9.7-inch iPad Pro) from a high-quality snapshot camera that can be pushed to the limit with often remarkable results, to a fully professional image-capture and editing system that, when paired with a laptop, starts to rival a standalone cameras with fixed-focus lenses. The iPhone 7 and 7 Plus push quality even further with a sharper six-element lens system and a larger-aperture wide-angle lens, while the 7 Plus opens up opportunities with the addition of a second telephoto lens.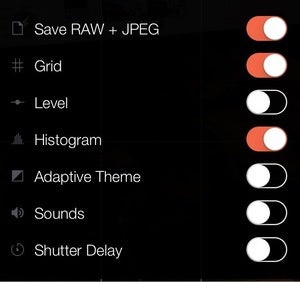 The Manual app is already out with a RAW shooting option that allows RAW only or RAW+JPEG.
Graphics giant Adobe released Lightroom Mobile 2.5 earlier this week to support RAW and wide-color processing. The Manual shooting app, which allows easy access to iOS's camera settings, was updated Tuesday with RAW support. ProCamera just pushed out a major overhaul in its current release on September 10 (version 9.5), but expects its 10.0 release with RAW and wide color support to head to Apple on Friday. (The App Store is currently backlogged.) The developers of Camera+ opted to wait until they had new iPhones in hand to tweak their work before shipping, but expect a release not long after. VSCO is less specific, but says it's "coming soon."
Starting in iOS 10, the six 12-megapixel camera models of iPhone and iPad can allow apps to enable a DNG (Digital Negative) format camera mode, in which the effectively unfiltered image sensor data is captured directly, resulting in about a 12MB file, rather than process that data through Apple's algorithms and compress it into a roughly 1MB to 5MB JPEG. The models are the iPhone 6s, 6s Plus, SE, 7, and 7 Plus, and the 9.7-inch iPad Pro. No earlier iPads or iPhones can have RAW enabled. (RAW is a generic term for mostly unprocessed image data, not an initialism; DNG is an Adobe-initiated open file format standard.)