Blocs 2 review: Web design app balances simplicity and sophistication
One of the mac's best, easy to use web design apps for the Mac gets even better.
Better yet, these two big additions work together. You can alter the properties of any class in your site at different breakpoints—making text smaller on smaller screens, for example or changing buttons' alignment so that they don't jut out awkwardly when squeezed into less space.
Still a few growing pains
Blocs 2 lets you search its online help library from within the program. But while the existing entries cover Blocs's basics in clear, friendly fashion, the documentation remains a work in progress. New entries for important features like video backgrounds were added while I was reviewing the program, weeks after its release; without them, I got stumped at several spots. I wouldn't have even known about custom classes for different breakpoints if Blocs' author, Norm Sheeran, hadn't pointed me to the right spot in the help files.
Blocs 2 has conquered its predecessor's occasional jitters when placing and editing brics, but I found a few other minor bugs and glitches. Custom classes had a habit of vanishing from the Class Manager if I closed, then reopened the same project without restarting the program. (Sheeran says that issue will be fixed by the time you read this.) And my sample site rendered weirdly when previewed at the phone breakpoint, but looked a lot better on my actual phone. None of these rough edges kept me from using or enjoying Blocs, though.
A few nice, though nonessential, features remain absent as well. There's no built-in FTP client, no way to easily incorporate PDFs or other non-image files to your site. You have to upload them yourselves, then type in the appropriate links, and Blocs 2 suffers from two different ways to choose colors. Global swatches let you pick a set of colors, then easily apply them to any element sitewide, but they can't specify opacity or other fancier aspects. The Class Manager can, but only by using Apple's own color picker, which doesn't know or remember the colors in the global swatches. Keep your hex codes handy.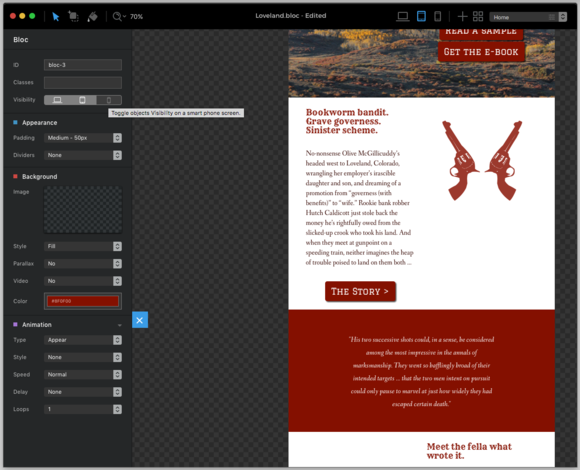 Blocs 2 improves its support for responsive design with visibility controls and custom classes for desktop, tablet, and phone breakpoints.
Bottom line
Minor limitations aside, Blocs 2's new features add a lot more power, but only a little more complexity. They're well worth the $10 price hike for the new version. Blocs 2 remains a great option for anyone who wants to build a sharp-looking site with minimal hassle.