Battlefield 1 beta impressions: Riding an armored train through the middle of hell
We're losing control of Objective Butter
And if there's anything Battlefield 1's managed to nail in its portrayal of World War I, it's the clash between the 19th and 20 th centuries, the way warfare shifted over the span of four short years. At one point I crested a hill riding in an armored car only to have a teammate ride up next to me on a horse, going about the same speed. Railroads, tanks, horses—they're all thrown together in Battlefield 1 like they were drawn at random from a kid's toybox.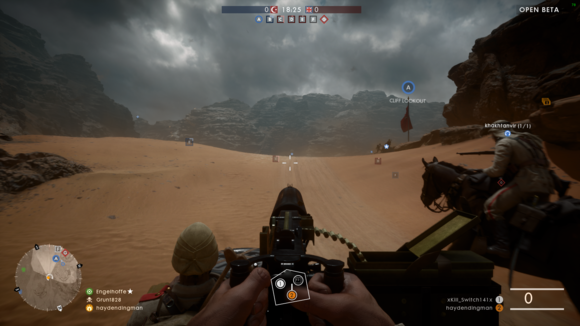 It happened, though. Vehicular warfare is probably the most interesting aspect of Battlefield 1 to me in this early stage because it really did shift so rapidly from 1914 to 1918, as countries sought a cure for trench warfare. Battlefield 1 might ramp up the action, might play fast and loose with historical veracity, but it nails the feeling of being on the cusp between Napoleonic warfare and modern warfare.
As for the beta, it's typically thin—one map, the aforementioned plains of the Sinai Peninsula, with Rush and Conquest modes available. All four classes (Assault, Support, Medic, Scout) are present, though each is limited to a handful of unlockable weapons.
It's the typical EA "It's-really-for-marketing-but-we'll-say-it's-for-network-testing" beta, and I bet by the time the full game releases people will be well-and-tired of the Sinai Peninsula. But if you have some spare hours this weekend I'd recommend checking it out, particularly if you're on the fence about Battlefield 1's setting. I think many people will come away enjoying it a lot more than they expect. I know I have.
We'll update you when EA puts an end date on the beta. Until then, give the Ottomans/British hell, chap. And always keep an eye on Objective Apples.